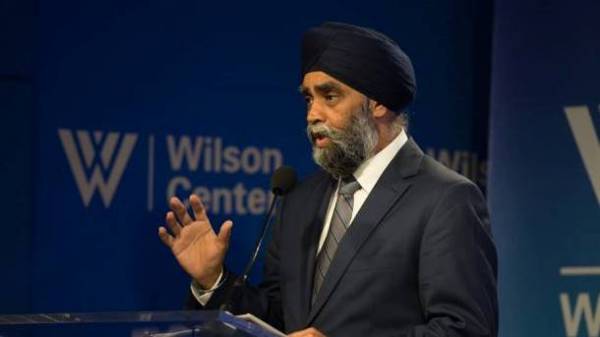 Canada condemns Russia's actions in Ukraine and intends to continue to help Ukraine to resist Russian aggression. This was stated in an interview with "UKRINFORM" the Minister of defense of Canada harjit Sajjan.
He described how Canada is trying to resist Russian aggression in Europe.
"Our government sees the Russian aggression is very serious and responsible attitude to the sovereignty (of Ukraine – ed.). Because of this, we not only extended our mission in Ukraine for two years, but we also do much more, for example, headed a multinational battalion in Latvia. We have also increased our cooperation with the Alliance, joining the aircraft patrol over Romania. In addition, near the coast of Western Europe is our combat frigate," said Sajjan.
SEE ALSO
What weapons allocated to Ukraine from Canada: klympush-Tsintsadze explained
According to him, Canada takes a strong stand in support of Ukraine.
"Canada wants to be a responsible partner in the world and reduce the aggressiveness of Russia. Someone said that Canada is the most Ukrainian country outside the Ukraine itself. For us it is. We are the people who understands their responsibility and role on the world stage. So we took a very decisive and responsible stand on the issue of support for Ukraine", – said Sajan.
As told during a visit to Canada the chief of staff of the armed forces Victor Muzhenko, Ukraine expects from Canada in the near future, making important political decisions on providing military assistance. According to him, the canadian side took time for processing requests of Ukraine.
Comments
comments