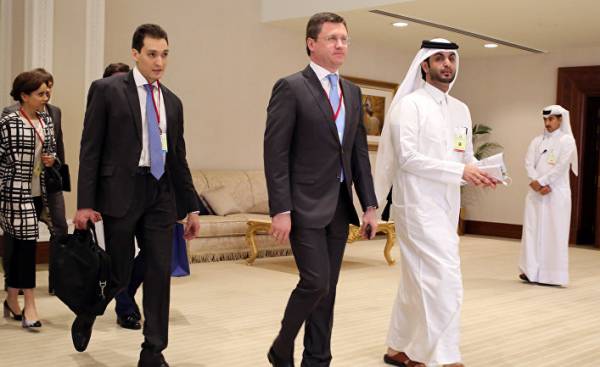 A deepening crisis provoked by the attempts of Saudi Arabia to isolate Qatar, puts Russia in a difficult position. This applies to its relations with several countries in the region.
Russia, which insisted on holding negotiations to resolve the conflict, trying to balance between two sides: she has close ties with Qatar and is collaborating with Saudi Arabia on the issue of stabilization of the oil markets and the settlement of the conflict in Syria, where she is also working with Iran. In December, sovereign Fund Qatar Qatar Investment Authority and trading holding Glencore PLC has agreed to buy a 19.5% stake in state companies Rosneft, Russia's largest oil producer, for $ 11 billion.
"Any escalation in the region, which is already saturated with different conflict situations of concern, — said on Wednesday Minister of foreign Affairs of Russia Sergey Lavrov, speaking to reporters. — We believe it is important to resolve any disagreements at the negotiating table to resolve concerns and to join efforts in the fight against the main threat in the region — terrorism."
Showing caution and a desire of Russia not to cross a fine line, President Vladimir Putin on Tuesday had a telephone conversation with Emir of Qatar Sheikh Tamim bin Hamad al-Thani (Sheikh Tamim Bin Hamad Al Thani) and Egyptian President Abdel Fattah al-Sisi (Abdel Fattah el-Sisi). The day before Egypt joined Saudi Arabia, Bahrain and the United Arab Emirates, Qatar severed diplomatic relations and transport links. These countries tend to punish the gas-rich Emirate because he allegedly supported Islamist groups and is in friendly relations with Iran, their main rival. They have taken the measures fraught with consequences — they can cause supply disruptions and the disruption of energy exports from Qatar.
Although Russia is unlikely to act as a mediator in this dispute, "active work," Putin and Lavrov shows that Moscow is interested in resolving the situation around Qatar's "political and diplomatic means", said the Russian presidential aide on foreign policy Yuri Ushakov, speaking on Wednesday in Moscow to journalists.
"Saving the world"
On Wednesday Sergey Lavrov and Minister of foreign Affairs of Iran Mohammad Javad Zarif (Mohammad Javad Zarif) discussed the crisis by telephone and urged all parties to seek a "mutually acceptable solution in the interest of maintaining peace and stability in the Gulf region", reads the statement published on the Russian MFA website.
"Russia has taken a neutral position, but there is hope for inflow of investments from Qatar, says Irina Zvyagelskaya, chief research fellow, Institute of Oriental studies of the Russian state Academy of Sciences.
Support the President of the United States Donald trump embargo against Qatar at the initiative of Saudi Arabia, and hostility towards Iran represent another risk for Russia if it tries to use its influence to reach a compromise, said Sergei Karaganov, a former foreign policy adviser to the Kremlin.
"Speaking as a broker, you can get benefits, but the risks are very high, — said psaki. The situation is very unpredictable. The US cannot be a reliable partner, because they do not hold a neutral position".
Wednesday in the course of communication with journalists the press Secretary of the Kremlin Dmitry Peskov denied and called "another lie" to CNN, which stated that, according to American investigators, the crisis was provoked by Russian hackers. The publication writes that, in trying to cause divisions between the U.S. and its allies in the Persian Gulf, hackers broke into the state-owned news Agency of Qatar and published a fake news report.
Comments
comments