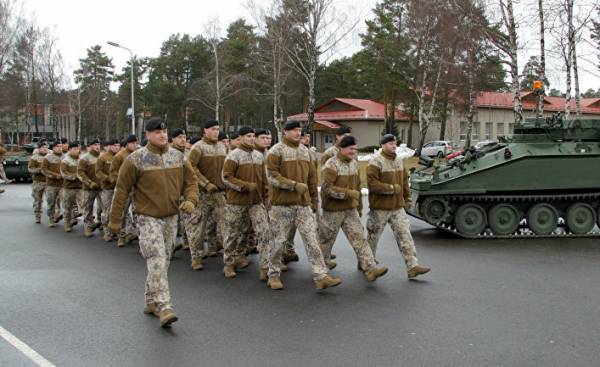 With the values of gay Europe Russia does not agree — she has Fevronia, family, Patriarchal. And it is useless, because Vladimir Putin is a global leader and Europe is so close. As to Latvia, it is necessary first to discern: the threat it represents and in its decisions depends on NATO and the EU. The Ambassador of Russia in Latvia Yevgeniy Lukyanov gave the first big press conference in which he outlined the Latvian media of the Russian point of view on the world.
If the previous Ambassador Alexander Veshnyakov met with the press on the second day of his stay in Latvia, Yevgeny Lukyanov in six months. And on the same day and the same time arrived in Riga to a seminar by opposition leader Mikhail Kasyanov. The Ambassador said that he did not know about the plans Kasyanov: "I do not follow his movements — he is a free man, as far as I know, even criminal cases for him in Russia. During my short work history in your country, I had one meeting with him — I got out of one and he went in there… We said Hello, and only then I realized that he offered hope, he did not realize what I said. This is not surprising: after all, I am the Ambassador of the Russian Federation, and it is no longer the Prime Minister".
On the issues of the Latvian journalists Yevgeny Lukyanov answered with reservations, "the diplomat language was given to conceal his thoughts", "I'm not the Creator, but the observer must report it to his government and President that there is, and here it is not necessary" and "guys we are gentle, but we have a good memory".
About his biography
Biography of man is a line between birth and death, and the rest is decoding. If my biography was read by personnel officers of the Soviet time, they would say that I'm a squirter. I'm a Sagittarius sign is, a person who… for Example, now I am interested to work as the Ambassador to Latvia. I know that I lack not more than five years, then burn out, it becomes interesting…

About Latvia's role in Russia's foreign policy
On your television I was asked about the role of Latvia in the geopolitical interests of Russia. I couldn't give an answer. Asked to reformulate the question: what role in the geopolitical interests of Latvia plays Russia? I think I answered the question. We are neighbors, historic neighbors. Our cultures are intertwined. Our existence is defined once and for all. Repeat the phrase of Napoleon: geography is a verdict, but not guilty…

About "frontline" role of the Baltic countries
As far as I know, Latvia to Russia is going to attack. How can we explain, NATO — a defensive military-political bloc. Another question, from whom he is defending? Another question. In the 90 years, the cold war ended with the collapse of the Soviet Union and the collapse of the socialist experiment, but a peace Treaty at the end of the cold war were not made. Consequently, not defined by the formula of the postwar world… Our Western partners (or opponents?) considered their indisputable victory of communism and the evil Empire collapsed, the Nations freed from the yoke… you Can put a point.
We agree with this, insisted on the peace Treaty — there was only one request that on paper we, alas, did not put. We were promised that NATO enlargement to the East will not be distributed. But today NATO country Estonia is 140 km from my home town of St. Petersburg. We have been deceived. Not for the first time. And when we say "how so?", we are told the administration what the President promised? That's up to him and ask. We're a democratic country. Presidents change, attitude to different issues change — everything is in rotation.
If to proceed from this, one might think that on the Eastern flanks of NATO, including Latvia, creates a defense against an aggressive Russia… Think it good to have this milestone, whether you are frontline States or the rear? For us it is not of great importance… In our defense, I was out on my question about the potential threat that may originate from the territory of the Baltic States, said: the threat as such from the armed forces of those countries to come can not. They have yet to see. The threat comes from NATO infrastructure located on the territory of these countries…
Don't know how many divisions in NATO plans subject to deployment in Latvia, but the fighting hussar units of the 450 Canadians, Swedes and others, placed in Adazi, of course, the threat to Russia is not present. But it's more of a problem for areas that host these installations of foreign military forces — they are the targets and objectives for the Russian armed forces.
About trust between Latvia and Russia
There will be no trust — the relationship will be. If the spouses do not trust each other — the future of the family in question… But we understand, that Latvia is not free in its decisions in relations with Russia — it subordinirovannyh within NATO and the EU. Latvia has declared to us sanctions, she joined them, we haven't declared personal sanctions against the Republic of Latvia — we responded to Western sanctions… And that the vassal of my vassal — not my vassal?..
About what can Latvia offer Russia
First of all, infrastructure. That ports, the transportation, everything that is connected with the transit of Russian goods to and from Europe. Same with Latvia plans about projects with China, India, Iran… I read that at the end of last year in Riga there has arrived a train from China. Remarkably, only in the territory of Latvia this train how many have passed? 250 km And how many thousands he went through Russian territory? And it is establishment of relations with China? Good relations with Russia are beneficial for relations with China. In this world everything is interconnected. It is impossible to make the globe one country.

About the budget of Latvia
The budget of the Republic of Latvia — not the richest field. Its completion should be systematic and serious circumstance.
About the sanctions for the "food industry" Latvia
Can only regret your "food industry". I doubt that Latvia is able here to do something… But the sanctions imposed in Russia, had fantastic results in our agricultural sector. Of such rates of growth of agricultural production, we could not dream — he's always been a black hole. Now in Russia there are influential and effective lobby, which requires the Russian government to maintain sanctions and not to give relief.

About sanctions from the West
Most of all we like to justify the extension of sanctions in 2014, said "the annexation of Crimea, Russia invaded the Ukraine". Then there was the phenomenon of the Minsk agreements — said that "Russia does not comply, it is a country — aggressor". I would like to know what you are doing seven to 7 million Ukrainians in our territory — they're not prisoners of war. It's 2.5 million refugees from the Eastern regions and 5 million migrant workers. They earn money in the country-the aggressor! So they are collaborators, traitors, they should be subjected to lustration upon return to Ukraine? And they are in Russia without visas and restrictions on movement.
How do we implement the Minsk agreements? We are not party to the conflict in Ukraine. There our armed forces. Can you imagine the Russian army, which would be 3.5 years hovered in the East of Ukraine is not in the nature of doctrines of the Russian army… But it is linked with economic sanctions. They have become a tool of political work of our partners in the West. Departed Obama finally reported: Russia's economy in ruins. Berlusconi is very good one on this topic said: "This tanned American President is very specific in their assessments".
About the excessive efforts of Latvia
Your country is faithfully implementing all of the standards of sanctions. And in the Moscow region opened a factory for the Assembly of Volkswagen German cars. Germany does not agree with sanctions? In solidarity, only its a shirt close to the body. Germany lost from sanctions 300 thousand jobs. Multiply by four men in German family is half a million people. And this in an election year, this burden on social programs. The American Corporation Boeing still buys Russian components made of titanium, if we stop to sell them, then forget the name "Boeing". If the American space program — military and civilian — not to fuel our engines, R-180, then it will stop. Can't they make engines that would allow to launch a rocket of that tonnage. It is in the interests of the Pentagon and science. Perform sanctions only those who are not able to refuse it.
I once spoke with one crown Prince, he lamented: Americans are so hard working… we Have with Iran was stable mutual trade and economic ties to $ 80 billion. Suddenly the Americans say: you undignified conduct themselves, Iran is such a country, think! We four times has reduced trade with Iran. Who free 60 billion filled? Americans. Business is business.
About winning Russian banks
Sanctions have created some problems for us particularly in the banking and financial sector. Our banks are not refinancing at low interest rates. They have to work in hard conditions… Now the Central Bank cleans the "detail" that from one pocket to another to shift and make money on it. But the stress of our banks fit into the world standards.

About the lack of cheese
Shouted that there is nothing to be people, "Madame Clicquot" drink — a cheese platter scanty. But who is cheese so expensive — go to Paris, three hours, eat cheese, and go back to their village. But if the cheese is not important, it can be done in Russia. Yes, yet more expensive, than in Latvia, we need to buy equipment in Italy and additives different from the worms… But then I have not once faced with the real tragedies of the local business, which sanctions just kicked to the curb. We did not start. It turns out, you were punished more. It is — in all fairness, in the framework of the new Union, which you had the honor to be, with what you and congratulations.
About the investors of Latvia
Paradoxically, the main investor of Latvia — the Russian money, however, they may be called a Cypriot, to be from offshore is the money that we stole in the 90s, washed, and now placed in the most attractive points of the market… So we have not lost interest in the Latvian market. But there is a concept of economic policy…
I'm not giving a penny to a country where I don't know what will happen tomorrow. I don't know what will happen tomorrow. Trying to assume risks (I know — 15 years, worked in a Bank), but where is the predictability, tax reform, working mechanism? Where is your planning Committee? I'm embarrassed to answer this question… the Grants are wonderful, but they never cover 100 percent of the cost of the project. In the best case — 50%. How to attract others? Eurobonds? This debt, which is already now in Latvia billion issued since the beginning of the year, the entire budget of Riga will have to pay with interest, and at what expense?
We've been through this, and you live in the illusion of the invisible and omnipotent hand of the market. God forbid you to work, and we somehow sklalos Stopped in time. Something is lost irrevocably, and most importantly, our people have lost is confidence in the future, the basis of stability of any state…

About "Nord stream-2"
There's this character in Russian literature — unteroffiziere widow who flogged herself. If you are so good that $ 25 million is not necessary. If political stories are dominating common sense and the hand of the market, why then say that there is the primacy of the market economy? Sorry, as they say in a neighbouring country, but it is not our business. Participate Finnish, Swedish and German ports get tapped out the pipe and there will be no Russian spies, no one will not compromise. But it will be without you.
About goods Made in Russia
The nomenclature of our industry is correlated with all items of goods which are produced in the world. The only thing we don't produce with your hands is a road. And fools are doing in other parts of the body. This is fine with us. Can't say what Russia lacks. Money can? But we printed them ourselves and print as necessary.
About the dislike of Russia
Say that we don't like. But we're not the girl that we love. And if you do fall in love with somebody, then it is for life. Although, if suddenly fallen out of love — you can leave, as did the Baltic States. And in accordance with the Stalinist Constitution. And according to the lawyers of the mid-30s, it was the best Constitution that ever was invented. I'm not talking about the use of — talking about returns. But the most important part, up to self-determination, it was effective and worked.
About the values of Russia
Even democracy in Russia, but own it — not like in Europe. Maybe you will answer me, what are European values? You W Europe, but we don't. Putin said, I am not a European leader. Guessed, what is it? It is a global leader and Europe is so close. When I hear the definition of "European values", fall into a stupor. I know the 10 commandments, you know biblical values and values aimed at self-preservation, the development, the protection of morals, morality, decency…
If the value is a gay-Europe, we have different values. We have Fevronia, the family, Patriarchy — are we retarded… I Might have imagined a lot about yourself, but don't want to touch my children and grandchildren. Here I will show this face! Scratch any Russian — see Scythian.
Yes, lady Hamilton rode naked in London and was of great interest to yourself, but that doesn't mean that it should be the norm. If we say that in Chechnya oppress gays… it's a pity that there is no Chechen — you would have heard that for this reason the present Chechen can answer.

About the claims to Russian democracy
If the claim that Russia oppressed minority, that everything goes in accordance with the laws of the country in which we live. If we are law-abiding citizens, the state — civilized: dura lex, sed lex — the law is harsh, but it is the law, otherwise can not be. If we say that we have dispersed the demonstration and for this reason there is a thrill in the blood of the keepers of the consolidated values, then you've seen how dispersed a demonstration in London, Paris and new York? I think the big difference there is, if everything is within the law. If sanctioned rally — no one will not disperse, if not sanctioned and carried out — the government has the right to use force. It's called democracy. Nothing better has not yet come up. While it is easiest — the monarchy. Here, in General, no questions asked.
You want to say that America is a democratic country? Want to say that the rights of national minorities is respected there? That there is a democratic procedure of election of the state? As, incidentally, in Latvia: you have the presidency is 51 votes is a democracy? And the presence of non-citizens is also a democracy?..
We do not claim to heal, but we all the time treat. Say you need to do so and so, and if bad behave, we punish them with sanctions. This conversation simply school ladies in some "petershule" unreasonable natives who do not understand what is "Ordnung" — they should stick to Bang, or to put in a corner. Well, you put in the corner of Russia — it will be so nice and peaceful, when all of us get rid of him. We to anyone I climb with my recipes do not say what is good and what is bad, and just say that we disagree with this. This is a normal manifestation of a civilized communication.
If we were trying to get something done, we have a rich history of responses to such attempts, God forbid, no one will like it… Say that we are now an aggressor nation, annexed the Crimea, acclaim the East of Ukraine are fighting on the outskirts of Kiev… have to tell you not to print that at the appropriate level of political contacts about Crimea nobody remembers. About Lugansk and Donetsk — Yes, and about Crimea — awkward to remember, it was all correct, this is not Kosovo and not overseas departments vysokodekorativnyh States. Donetsk and Luhansk is a big problem, and it should be solved. But not us, and Kyiv and these regions.

About military maneuvers
In the recent exercise "saber Strike" in the Baltic States and fuss with the guerrillas of the type of lightning in Lithuania — we have not scratched one. When there is a special operation decided to conduct the penetration of green men — drum! But if in arithmetic: in Estonia in the event such plan has involved 9,000 troops of the NATO countries, and in our teachings (Russia-Belarus) will be 6,000 soldiers. You know that in Estonia you need more — there his army will not see, and here the boys resemble in shape and cud someone will give, and maybe the future… don't know.

About "exercises" in Syria
We have another point where we conduct a large-scale exercise is in Syria… where our armed forces are very clearly and specifically conduct training activities in real conditions of modern combat. Moreover, the costs of their stay there and baremineral come from the budget of the Ministry of defense "military exercises". Not a penny more no one no one gives. We've been here for 25 years as learned to count money very carefully.
About the unresponsive Latvian Ministry of defence
We of the defense Minister of your country was invited to Moscow for the international conference on military issues — he never had time. Was attended by the military attache. After last year's meeting with representatives of your Ministry of defence, we have invited the Latvian military to go on a helicopter regiment in Pskov region, which bothers Latvia, no one went, refused. Why be afraid then? If you come, then just leave. It's not Siberia, though, and returning from there.
About recognized in Russia Latvians
In Russia know only one name of the Manager of the municipality of Latvia — the Riga city mayor. More than any leader on the political turnover of the Russian Federation is unknown to me… There is some kind of friendly relations, at the level of individual cities and regions. For example, I was surprised to learn that one of the cities of Latvia has friendly relations with the Petrograd district of St. Petersburg… True, they say, died down to something. Going on vacation — remind.

About brainwashing Latvians
I was amazed that the statistics show that 60% of the population of Latvia, regardless of the political and civil status, are confident that Russia will attack Latvia. This is a perfect example of brainwashing without the participation of Russian "soft power". NATO strategists are counting how many hours will last the advanced units of the NATO to approach here the main armed forces. What do you mean? It's so possible and to finish badly. If we will come the moment before the war — winners. No matter who dies first and who second. The rhetoric needs to be fair and objective…
Two years ago Putin at a meeting in Helsinki with President Niinistö, offered to agree that the Baltic sea all the planes were flying with the transponder who did not answer? NATO. We are ready, but unilaterally to squat will not. We are either equal partners, or else no any other way with Russia is impossible.
Facts from the biography of Evgeny Lukyanov
Born December 10, 1951 in Leningrad. He graduated from the Leningrad state University on a speciality "English language and literature", worked as an engineer-translator, then — Deputy Secretary of the Board of the Leningrad branch of the Union of journalists of the USSR, in 1984-1990 was in the diplomatic service in the foreign Ministry, was Deputy Director for external Affairs of the Museum "the State Hermitage Museum, Vice-rector of International banking Institute on the issues of foreign funding and international links. From 1993 to 2006 were in senior positions in the banking sector: JSC "Dresdner Bank" and JSC "Vneshtorgbank" (St.-Petersburg).
Since September 2006, he headed the Department of socioeconomic and financial monitoring of the office of the Plenipotentiary representative of RF President in the northwestern Federal district. Since 2007 sambanemanja representative of the RF President in the northwestern Federal district. From 2010 — assistant Secretary of the Security Council of the Russian Federation, and 2012. — Deputy Secretary of the Security Council of the Russian Federation.
State Councilor of Russian Federation of the 2nd class. Member of the scientific Council under the Russian security Council, co-chair of the section on global problems and international security. Awarded the order of Alexander Nevsky and Honor, the medal of the order "For merits before Fatherland" II degree. Married, has two adult children.
Comments
comments