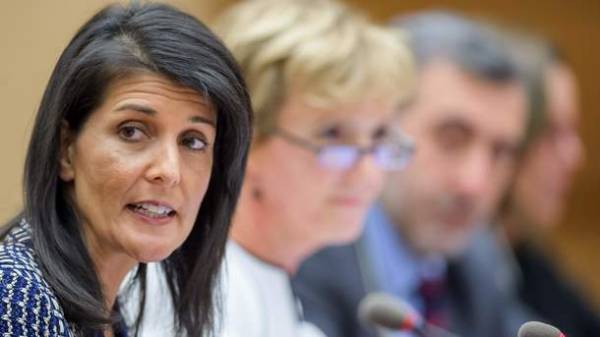 The U.S. permanent representative to the UN, Nikki Haley urged the UN Council on human rights to improve the efficiency of its work and, in particular, to adopt a strong resolution regarding the situation in Ukraine.
She stated this on Tuesday during a meeting of the Council in Geneva, reports "UKRINFORM".
"This session of the Council it is essential to make the most powerful as possible, the decision about the critical situation in the sphere of human rights in Syria, the Democratic Republic of the Congo, Eritrea, Belarus and Ukraine, as well as recommendations for preventing further violations and abuses of human rights in these countries", – said the representative of the United States.
Haley noted that respect for human rights is a very important area of UN activity, which should take care of not only one specific organ, but also others, including the security Council.
At the same time, she stressed that the UN Council on human rights includes many countries where there is a violation of human rights. "To be a member of this Council is a privilege, and no country that is a violator of human rights, should not take place at this table," said Haley.
In this regard, she stressed that the Council, in particular, never considered human rights violations in Venezuela, but in March adopted five resolutions against Israel.
She noted that the UN Council on human rights should become "more efficient, more accountable and more responsive".
Comments
comments