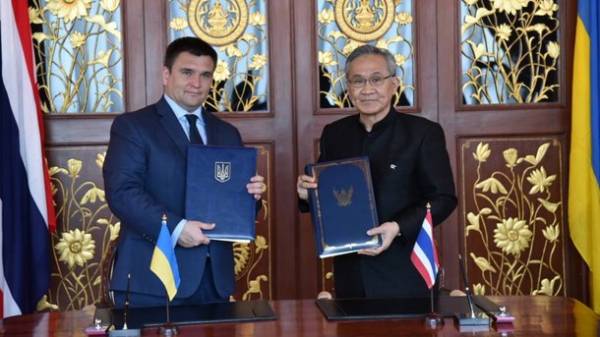 In the framework of the official visit of Minister of foreign Affairs of Ukraine Pavlo Klimkin met with Thai counterpart Don Pramudwinai, the press service of the foreign Ministry of Ukraine.
During the meeting the parties expressed mutual interest in the comprehensive revitalization of the Ukrainian-Thai relations, there was an extensive exchange of views on topical international and regional issues.
"The parties have agreed on a schedule for upcoming political contacts for the near future, in particular, agreement was reached on holding in the near future the second round of political consultations at the level of Deputy foreign Ministers and the first meeting of the intergovernmental Joint Commission for bilateral cooperation", – stated in the message.
During the negotiations were discussed the ways of deepening Ukrainian-Thai cooperation in the framework of international organizations and prospects for further development, first of all, trade and economic bilateral cooperation.
Following the talks, the parties signed the agreement between Ukraine and the Kingdom of Thailand on mutual legal assistance in criminal Affairs and trade agreement between the governments of the countries. The implementation of the activities regulated by the signed documents will contribute significantly to the activation of bilateral contacts between law enforcement officials and representatives of business circles of the two countries.
"The implementation of the relevant provisions of the interstate Treaty on mutual legal assistance in criminal matters significantly enhances collaboration and increase the level of coordination between law enforcement authorities, especially in investigations of criminal offences committed on the territories of Ukraine and Thailand," the foreign Ministry said.
The trade agreement with Thailand, which is the main trading partner of Ukraine in South-East Asia, with bilateral trade volume in 2016, more than $600 million (with a positive for Ukraine's balance of $255 million), opens up additional opportunities for mutually beneficial and pragmatic cooperation between the two countries on economic and investment priorities of bilateral relations.
Aimed at development of contacts between businessmen, establishment of joint ventures and representative offices of commercial establishments in the territories of the two countries, the intergovernmental trade agreement reglamentary, in particular, the beginning of the work of the Joint Commission on trade, chaired by the Minister of economic development and trade of Ukraine and the Minister of Commerce of Thailand, which will study possibilities of expansion and diversification of bilateral trade-economic relations.
Comments
comments