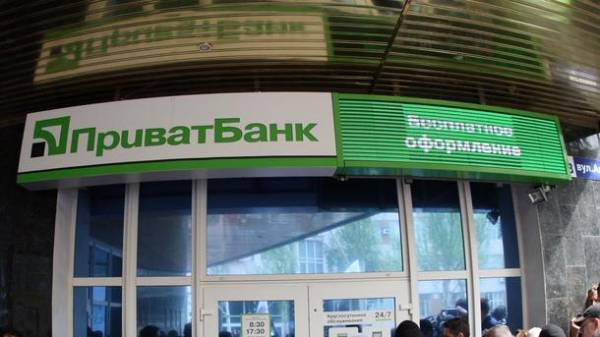 The journalists of the project of investigation of corruption and organized crime called the company who received loans of more than a billion dollars before the nationalization of PrivatBank. About it writes "Economic truth", referring to the work of OCCRP.
According to the book of loans in the 2015 – 2016 PrivatBank has issued loans 28 Kharkiv companies, which were controlled by individuals associated with the former owner of "Privat" Igor Kolomoisky.
Loans in the amount of about 185 million dollars was unsecured, which is a serious violation of banking practices.
Almost all companies that received loans, was registered in 2015, in all but one, the authorized capital is equal to a thousand hryvnia, which confirms the fictitious nature of these companies.
According to the investigation, the owners of Kharkiv companies – top managers of enterprises that kotroliruemie Kolomoisky. They also connected on Facebook.
The money received companies which konrolirovat:
Victor Schendel (ex-head of "Dniproavia") – 154,1 million dollars;
Vyacheslav Placesof (General Director of "Optima 770") – 136.8 million dollars;
Ivan Makowichuk (Director of travel company "Scorzonera-Transcarpathia") – 154,4 million dollars;
Sergei Kazarian (former head of "Tsyurupynsk Agropostach") – 155.6 million dollars;
Vladimir Golovko (head "Zaporizhnaftoprodukt") – 141,2 million dollars;
Igor Malanchuk (CEO of gas stations ", Columbine") – 148,8 million dollars;
Vadim andreyuk (Manager of "Ukrnafta") – reach 115.3 million dollars.
Infographics increases click-through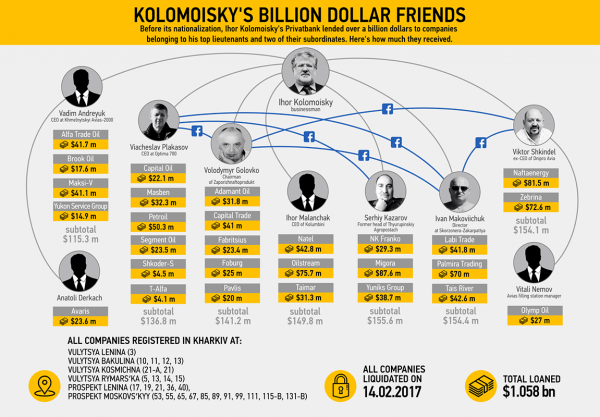 Two more people – Anatoly Derkach and Vitaly Nemov – turned out to be dummies. One of them worked at the gas station, the other a taxi driver. For two they got the 50.6 million dollars.
All companies were liquidated in early 2017.
Recall, PrivatBank was nationalised in December 2016. The whole procedure took 72 hours. The reason is that "Private" could not execute the recapitalization program. The Finance Ministry and the NBU had already stated that the move to the state was the only viable option to save financial institutions.
At the same time, a former beneficiary of "Privat" Igor Kolomoisky insisted that PrivatBank was the victim of the "tyranny of the NBU". Kolomoisky filed a lawsuit on the NBU, Ministry of Finance and Privat.
Comments
comments