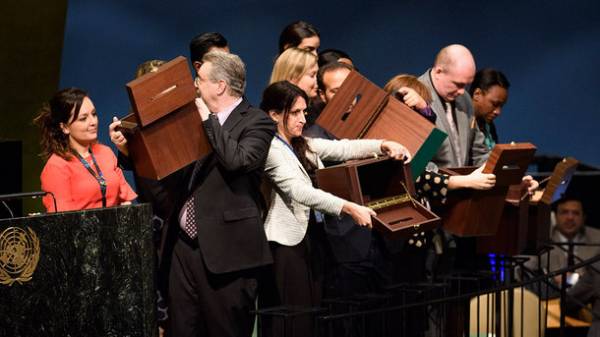 The UN General Assembly voted for the new non-permanent members of the security Council who will serve for two years. It is reported by the UN news Center.
The results of the vote, the security Council is côte d'ivoire, Kuwait, Poland, Peru and Equatorial Guinea. According to the preliminary arrangement with Italy in the new composition of the security Council included the Netherlands, who had previously shared a two-year term with Italy.
As you know, Britain, China, Russia, USA and France – the permanent members of the Security Council. The other ten are elected every two years based on the principle of regional rotation.
So Poland next year will be replaced by Ukraine, which currently represents the Eastern European group. Kazakhstan occupies one of the seats reserved for the representative of Asia.
We will remind that on the eve of the UN security Council unanimously extended the sanctions against the DPRK. In the sanctions list includes 14 individuals and four legal entities.
Comments
comments