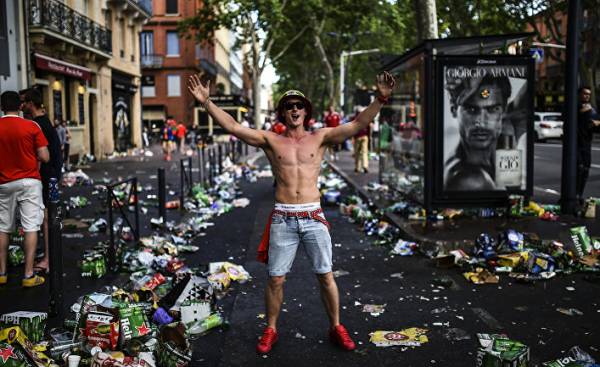 Most spectators at major professional sporting events can behave decently. For example, they know better than to throw stones at passing buses.
They also know that should not create their threatening behaviour and rowdy shouts of the dangerous situation in the city on the way to the match or coming back from it. They also know well that should not attack the police, using a torn in the stadium seats.
How is it that football fans are male can't understand it? Maybe the fact that male football is a place which manifest the properties of a strong macho man. Maybe it is primarily the place where men without any consequences and risks of being detained can behave rude, aggressive and to create a nervous atmosphere before and after the match — as it happened recently in the Cup final men's teams between bitter rivals FC København and Brøndby IF.
Most of the viewers of other sports events, even in the most tense moments of the competition can behave quite civilized compared to the opponent. But why football fans are male it's hard to act the same way? Maybe it is because football as a sport "real men" and the identity of masculinity are closely intertwined with each other.
Because during matches is normal to pour the other team expressions related to homophobia, sex and racism, and although the Danish sports Union ball games in April came to end homophobia, and conducted the campaign to "Kick homophobia off the field", there is no indication that there is some change of mentality.
Shouting degrading to the players of the opponent during a match, according to the logic of macho that is most effective when used offensive words about gays, women or ethnic minorities. All of this is a sign that they are "not real men".
We are dealing with a macho man who attacked police and civilians, arrange pogroms, are undoubtedly dangerous for your environment and generally cost society millions of euros, because it is necessary in such cases to attract a large force of police.
In addition, it encourages hatred of people who, in their minds, do not meet the standards of behavior of macho, can be spread safely and without the thought that someone might damage.
The socialist people's party (in 2011) and Venstre (2014) studied the possibility that the relevant football clubs carried greater responsibility for the behaviour of their fans. On Friday, the social Democrats said in Berlingske that they too are working on similar issues. But political action does not solve the problem itself — the fact that we as a society agree with the behavior of football fans that goes far beyond the limits of human behavior and has implications for the respective groups. The Football League and the society of players, along with the Danish Union of sports games with ball and clubs, there are many things that you should think.
Comments
comments