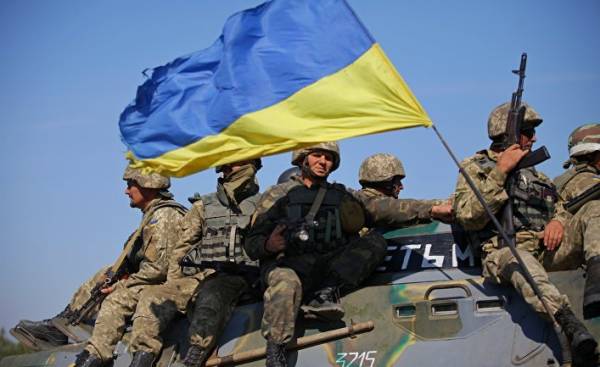 During an interview with "Observer" with the Chechen volunteer forces ATO Amina Okueva we agreed that she will help in arranging interviews and with her husband, a battalion commander named Dzhokhar Dudayev forces in the ATO Adam Osmaev. The meeting failed to agree on pretty quickly. In the afternoon of 1 June we met up with Amina and Adam in one of Kiev cafe in order to discuss a number of urgent topics.
And some time after our conversation there was a terrible — on Osmayev and Okueva was assassinated. According to the head of the Department of communications, Ministry of internal Affairs Artem Shevchenko, the killer has infiltrated the volunteers under the guise of a foreign journalist approached them, opened fire from a pistol, once in Adam. His wife opened fire in response, injuring the killer. It is reported that Adam Osmaev is in the hospital with a serious gunshot wound.
"Explorer" is hoping that Adam gets better soon, and criminals (including customers) will get what they deserve.
Soon we will publish the full text of the interview with Osmaev and Okueva, and while we offer our readers extracts from it.
The continual threat for life
Amina Okueva: Generally, we don't linger in any one place — there are things in different cities. In addition, it is dangerous to stay too long in one place, because we have information that we very actively hunt, as Kadyrov's thugs and Russian special services. So we never say where we plan to be. It's just such security measures.
On the timing of the liberation of Donbass
Adam Osman: actually our battalion is now engaged in highly specialized work, questions that can't even light up. So the rumors that the battalion was broken up to pay no need — we were doing.
From fighters have very big problems with the security personnel. There are much worse things than Ukraine. So if you want to break the line of defense in any place is not difficult. The question is, now that this is not necessary, because Ukraine adheres to a certain position. But if need be, for the APU no problem.
On Kadyrov's henchmen in the Ukraine
Adam Osman: you know, we've been looking for them for a very long time, but never found. There are individual cases of their presence, but the mass participation of Kadyrov's long gone. Because they were brought out at the very beginning. Due to the fact that they fell out with the local bandits. If met, then the attitude to them we would be worse than anyone. Because it is a traitor to his people and any human values. They went to serve his enemy against completely innocent people that they did not do anything wrong.
About Chechnya
Adam Osmayev, Putin grew up and worked in an atmosphere of hatred, picked up like guardsmen, who bespredelnichat in the Caucasus. Including in relation to sexual minorities. This is just one of the problems, and in fact, they were much more. So this is a purely he is so his personal thug who involved in this dirty business. This is a real gang, they are tied by blood, so cover each other and maybe go together.
About Russia
Adam Osman: I think that in the case of extradition from Ukraine I would have been dead by this time. Such precedents existed. Many commanders who were tried in Russia, has killed for frivolous reasons. The same Salman Raduev has died in prison, Minister of state security of Chechnya Guriev, whose deception pulled on the negotiations and put in jail. They conducted all sorts of experiments, we injected poisons. So I am very grateful to Ukraine, which in fact saved my life.
Note that Osman is the man under the presidency of Viktor Yanukovych tried for alleged attempt on the President of Russia Vladimir Putin. In March 2014, he asked Ukrainian citizenship.
Comments
comments