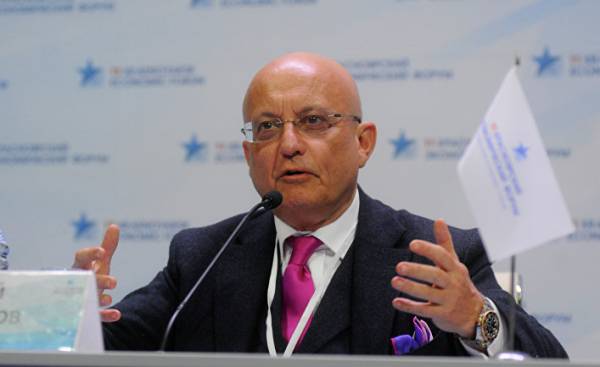 When Russian officials and analysts say about the American investigation into the alleged hacker attacks on the presidential campaign of 2016, their talk is dominated by two themes. Im flattered that their country is so strong and terrible. And amazing that the United States is so enthusiastic about this scandal.
Of course, this is the official line, but exactly the same point of view shared by some critics of the authorities, which I have this week had an interview. People can't believe such a sharp turn of the wheel of fortune: after years of humiliation Russia has again become a force in global scale. And the United States, which has long been superior to all the other superpower, today, split, disoriented and, according to Russian retreat.
Version of the Kremlin voiced Sergei Karaganov, who heads the Russian Council on foreign and defense policy. Your response to the investigation he describes as follows: "It is a mixture of disgust and sympathy. The disgust caused by the fact that there is 99% lies and fiction, and maybe 100%. As for the sympathy, this is a terrible picture when a great democracy is killing itself, committing collective suicide."
In his words there is undisguised glee, although officials say about over-reaction of the United States. "I would be proud and happy if my country's authorities with the help of the hackers penetrated [into your system] and showed that you live in a crystal castle and should not interfere in the Affairs of others," said Karaganov, who not only directs a think-tank, but is an unofficial Kremlin Advisor.
Russian President Vladimir Putin, in any case, he wins, said independent analyst Andrei Kolesnikov, working as a senior researcher at the Moscow Carnegie center. "If we really interfere in your elections, then, we have demonstrated its power. If the intervention was not, then we clean."
Russian surprised how quickly after the election Donald trump is falling apart a US-led world order. Russian leaders disgusted by Hillary Clinton and favored Trump. But even in the most dark and gloomy corridors of the Kremlin Putin's advisers would hardly have imagined that a President trump would be such a destructive force, and that the reaction will be volatile. Russians are accustomed to the fact that the United States they are being intimidated and forced, and they never imagined that this country is so fragile.
"We think Washington has gone mad, — said the former Russian government official Andranik Migranyan, who taught policy issues in the United States. American history was always the history of self-sufficiency. And today we are witnessing the sense of vulnerability". He believes the election trump a "paradigm shift" for America, which was much more polarized and weaker than thought by its elite. In his opinion, now is the day of reckoning.
It would seem that Russian should be embarrassed charges in their address in the attempt to undermine the electoral campaigns in the US and Europe. But just the opposite. Migranyan says: "You assure us that Putin is omnipotent, he can do whatever they want to rig elections, to change Europe, anything."
The official Russian media sarcastically tell about daily revelations in the American media and in Congress. When Senator John McCain said this week that Russia is more dangerous than the Islamic state (a terrorist organization banned in Russia — approx. ed.), one of the Russian news site said, "Someone give this gentleman a sedative". When it was reported about the problems White house adviser Jared Kushner, the same website posted the headline: "Again, these Russians!" In fact, they think it's funny.
Trump — the familiar Russian political figure. Large, sociable, a bit boorish, something like Boris Yeltsin. "I wouldn't want to run in Russia, said about trump Karaganov, But if your system is not able to provide anything better, why not?" Trump he called "incredibly brave" because he challenges the American political Orthodoxy, calling for improvement of relations with Russia.
According to the Kremlin, the main advantage of trump — that he barred the way to Hillary Clinton, who personified the aggressive interventionist policy in the defence of democracy, we regard Russia as a mortal threat. "We believed it a hundred percent dangerous, — said psaki. — In case of victory, I gave a recommendation to the government: bring nuclear forces on alert, so they knew about it".
Putin this week conducts the St. Petersburg international economic forum, something resembling Davos, proudly demonstrating the new power of Russia. It's not a victory parade, but he may become one. According to Putin and his allies, the vaunted "liberal international order" America is falling apart.
"Such a procedure is not liked, and we intend to end it," said Karaganov.
Comments
comments