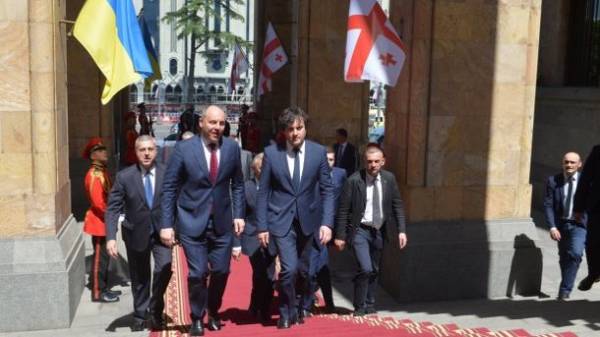 The head of the Verkhovna Rada Andrei Parubiy stated that Ukraine should not be allowed to Ukrainian territory was divided by barbed wire, as happened with the Georgian lands after the Russian occupation. He stated this while on adminpraise of Georgia with Russian-occupied South Ossetia, reports 112.ua.
He showed what the outcome of the "Russian world" in Georgia, pointing to the barbed wire.
"We see the barbed wire that shuts the entire occupied territory. This barbed wire is a symbol of the occupation policy of the Russian Empire. Here we see what end the occupation of action when the divided village, when the people who are on the other side of the wire, are unable to come to the grave of their parents, to come to the hospital, which is located in the village, because the village is divided by a wire. The main conclusion that can be drawn: we need to do everything possible to prevent Ukraine to be divided by barbed wire, to do everything possible, freeing our lands," – said paruby.
As you know, Parubiy is with working visit in the Georgian capital Tbilisi, where the session of the NATO parliamentary Assembly.
As previously reported, Georgia has accused Russia of encroaching on its sovereignty. Dissatisfaction of the Georgian authorities was connected with the visit of the foreign Minister of the Russian Federation Sergey Lavrov in the occupied Abkhazia.
Comments
comments