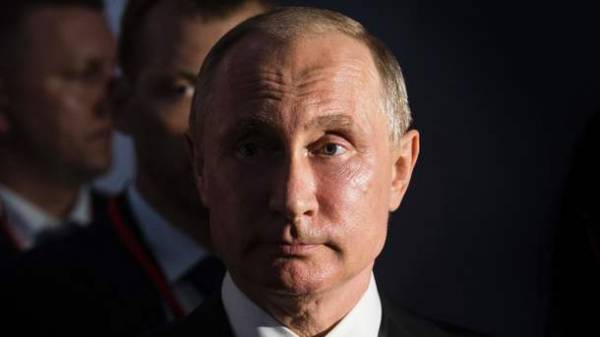 Russian President Vladimir Putin during a visit to France for the new leader Emmanuel macron once again the goof, calling Kiev Anna Yaroslavna "Russian".
"With the visit of Tsar Peter (the first edition) in France began the history of Russian-French relations. It has much deeper roots. The educated French public knows about the "Russian" Anne – Queen of France," he said.
The Russian President is amused social media users, who reminded him that Anna was Queen of France long before all appeared in Moscow.
"Anna Kyivska: Queen Franz prishla z Ukrainy"
Book FLA delarme's scho viyshla have Franz 2015 year pic.twitter.com/cb60BhYbt3
— I heminway Krabi (@pan_zugzwang) 29 may 2017
Vova, you're a disgrace to all of Europe))) pic.twitter.com/w42BirUmxw
— Betterment (@Uzhesogodniii) 29 may 2017
Putin called the Kiev Anna Yaroslavovna Russian? It is not surprising, because in Russia Jesus of Nazareth is also Russian I believe.
Gray Cardinal (@slevo4kin) 29 may 2017
Window to Paris pic.twitter.com/zA1fOjy4yG
— Andrey Zakirzyanov (@Bezizyanov) 29 may 2017
Putin in his 64 has already surpassed the insanity of the late Brezhnev era.
Because the Accel, I guess.
— Aunt rose (@Anakoyher) 29 may 2017
Puts poklicev the spirit of Annie Jaroslavny for relief against direct Tesco Makron. Ale not dopomogli, Bo there on the Hori Anna acres svyatkove Day.
— Dmytro Kuleba (@DmytroKuleba) 29 may 2017
The territory of Moscow in the time when Anna Yaroslavna of Kiev was Queen of France. pic.twitter.com/hw1t542oqs
— Andrey Shumylo (@andykrim65) 29 may 2017
Kiev is the capital of Russia. Kievan princes all Russians. Anna brought to France tricolor, a little altered, and turned the flag of France. pic.twitter.com/MrkG6ylapD
— Rogozin-to-orbit (@LyapunovS) 29 may 2017
NB. If Putn on view in CLO Franz since, Yak cream, "ugima" Anna Kisko to the balance of the Russian Federation, he is fine… https://t.co/AhXm8u3WcA
— Oksana Zabuzhko (@o_zabuzhko) 29 may 2017
Anna Yaroslavna, Queen of France, was the daughter of the Kiev Prince. And the Udmurts relationship has not exactly been: pic.twitter.com/Kk7RLCvrgz
— Foreign Rossi (@Fake_MIDRF) 29 may 2017
Your "face" when you found out:
1 the Queen of France, Princess Anne of Kiev – Ukrainian!
2 Your "journalists" – propaganda!
3 You're still S***ylo! pic.twitter.com/S4S0HbaK0G
— Terrible Bendera (@Realuran) 30 may 2017
Keep your Putin in the negotiations. It is not terrible and not funny. It is pathetic.
— pani Walewska (@pani_walewska) 29 may 2017
According to Putin, Anne de Kiev "beginning the story of Russian-French relations" pic.twitter.com/eQtoiSDAh9
— Poweska Ukraine (@i_army_org) 29 may 2017
I have no words to say about the Queen of France from Kiev to Anna, who lived in the 11th century, when neither Moscow nor Russia did not exist
a petty crook https://t.co/YJYzaoV7mH
— Oleg Panfilov (@OlegPanfilov7) 29 may 2017
The ruble – hryvnia stump
Moscow – the stump of Kievan Rus
All they have there is half-full
— Edmond Dantes™ (@deMonte_Cristo) 29 may 2017
Bike ruske Prince Yaroslav Mudra and his daughter Anna pic.twitter.com/CGV0luRb27
— Fine Buchach (@Khu_Buchach) 29 may 2017
Storioni lcbas for @KremlinRussia pic.twitter.com/oZVIGmYfKk
— Dmytro Zolotukhin (@Z010tukhin) 30 may 2017
Oh, Gori, Rusnya, to ash pic.twitter.com/cd6QHcGOhu
— Edmond Dantes™ (@deMonte_Cristo) 29 may 2017
Today kacapi to Pravati UK tomorrow – pidruchniki in schools, poslezavtra – this zombotech Buryats to rush to save scanno ruzky Dambas pic.twitter.com/SnAqBfrSIt
— Himikus (@MrHimikus) 30 may 2017
Comments
comments