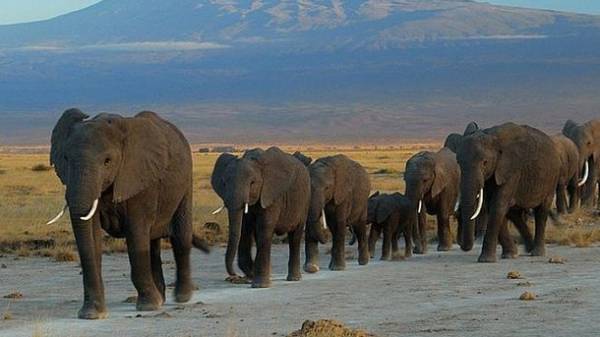 In Thailand wild elephants are stopped and robbed on provincial roads the trucks carrying fruits from the plantations, according to the Third national TV channel of the country.
In Prachuab Kirikhan province, near the resort town of Hua hin, the elephants stopped a three-ton truck with pineapples. The channel the truck driver told how a large male blocked his road car on a narrow highway running through the territory of the local reserve, and then some more animals came out of the jungle and began trunks to carry pineapples from the body. Each time you try the driver put the car in gear and leave the big male again took a position in front of the hood of the truck and hit the trunk in his cabin, where in addition to the driver there was his wife and young son. When the driver once again tried to move the elephant rested with his short tusks, which he apparently once cut off by poachers, in the side of the machine and slightly lifted her and then lowered into place when the driver took his foot off the gas pedal.
Elephant robbery lasted more than an hour, said the driver. At some time surrounded by animals of a truck passing by a police car. Law enforcement did not dare to contact the "robbers", but reported the incident to the forest Rangers of the Department of national parks Thailand, and then their squad were on the scene of the "crime" and swept the giants.
Thailand: Safety worries as wild elephants steal from trucks https://t.co/ihy9KcGdfh pic.twitter.com/dZkshyJK4g
— PADILLO (@Padillo) 30 may 2017
Reports of such cases come from all the provinces of Thailand, located where fruit plantations, marks the channel. Sometimes the elephants stopped several cars and keep them until satisfied.
Now in Thailand there is a campaign to collect fruit. Fruit in this country grow year round, but the beginning of the rainy season is from mid to late may is the time when ripens at the same time the greatest number of species and varieties of fruit. On highways of Thailand at this time are moving long columns of "fructuoso", loaded with pineapples, mangosteen, durian, late varieties of mangoes. With a narrow highway that goes from the plantations, on track to join the flow of trucks and pickups, and often on the highways leading to major cities, there are many hours of car-"fruit" jams.
Comments
comments