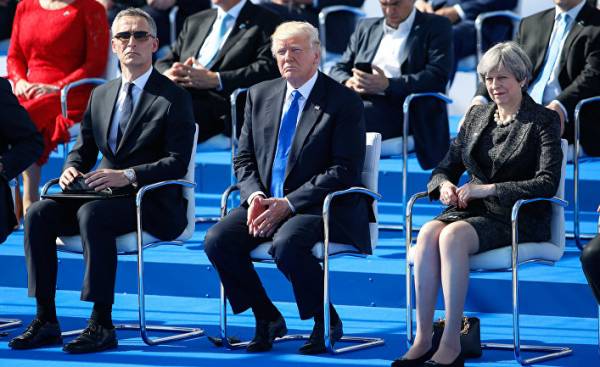 Is Vladimir Putin all the more reason to be happy after the NATO summit last week?
The temptation is to answer "Yes".
Personally the President did not say anything, but the Russian media's summit coverage is widely.
After the gradual easing of the situation in recent years, many thought that the President of the United States Donald trump Express his unconditional support of the Fifth article of the NATO Charter stating that an attack on one of the member States of the Alliance is an attack on all NATO allies.
But this did not happen, in any case, this right has not been told, although all hoped for it, and that's what most thought.
Yes, trump said the US will not betray his friends, who stood with them shoulder to shoulder in the aftermath of 11 September, but right article 5 he did not mention.
Instead, the leaders of the European NATO countries learned from a ten-minute speech, which may follow the whole world that they have changed their Alliance is too low in defense spending for many years, and that therefore they failed to defeat terrorism, just as trump wants.
Probably, such trompowsky way of speaking forced Putin to smile — despite the Botox.
After Donald trump announced to NATO in an interview in January, "legacy organization", Putin's press Secretary Dmitry Peskov said that Moscow agrees with trump. Influential press Secretary also said that "given the fact that NATO has focused on confrontation, and the whole structure of the Alliance is devoted to the idea of confrontation, it is, of course, can not be called a modern structure suitable for such ideals as stability, sustainable development and security".
Thus, the NATO summit was widely covered in the Russian media, and many experts shared the view Peskov stated that NATO is not adapted to the fight against terror.
Putin has described NATO as "aggressive" force, which aims to isolate Russia from Europe. This rhetoric intensified as NATO began to pay more attention to the protection of Poland and the Baltic States, formerly Soviet, and now for many years members of NATO.
This fact as an important argument used by NATO Secretary General Jens Stoltenberg, trying to protect trump. The NATO head said that trump has clearly stated that the obligations to NATO, in particular, during meetings with him, Stoltenberg. He pointed out that trump presented a budget in which us defense spending in Europe increased by as much as 40% and this money, in particular, will be used to strengthen the us presence in Poland, Estonia, Latvia and Lithuania.
Although Putin, at first glance, you may be happy with what trump said, Moscow could not pay attention to what he called Russia a "threat". Russian experts, however, explained that it was "an internal medical report" designed to get other NATO countries to spend more money on defense. As you know, the goal is that the 28 NATO countries should spend on military spending 2% of their GDP. A solution of 2% was made in 2014 in response to Russia's annexation of Crimea and support of separatists in the South-East of Ukraine.
The greatest attention in Moscow in recent days has attracted the expulsion of Estonia, a member of NATO, the two Russian diplomats. Moscow called it "another unfriendly step" from Tallinn. She believes that it will lead to a further deterioration of relations between Estonia and Russia.
The Kremlin is very concerned about the possibility of some control over its own "backyard", i.e., those that were once constituent republics of the USSR. As you know, some of these republics and the Baltic countries Estonia, Latvia and Lithuania. Many in these republics fear that Russia could do now. Of course, this fear was intensified when Russia began to advance on the territory of Ukraine. And when Donald trump says the biggest problem for NATO, terrorism, the Baltic countries strongly disagree.
Putin's rhetoric about NATO as an "aggressive force" intensified after NATO exercises in the Baltic sea. The Russians responded with a redeployment of nuclear missiles in its Baltic enclave of Kaliningrad bordering Poland and Lithuania.
Now our European allies are eager to know what really thinks about the Russian Donald trump. According to rumors, the Federal Chancellor of Germany Angela Merkel, going to the Tramp in the spring, brought an old map of the Soviet Union, to explain to him what's going on.
It is possible that it reminded him of the fact that Vladimir Putin once said:
"The collapse of the Soviet Union was the greatest geopolitical catastrophe of the XX century".
Comments
comments