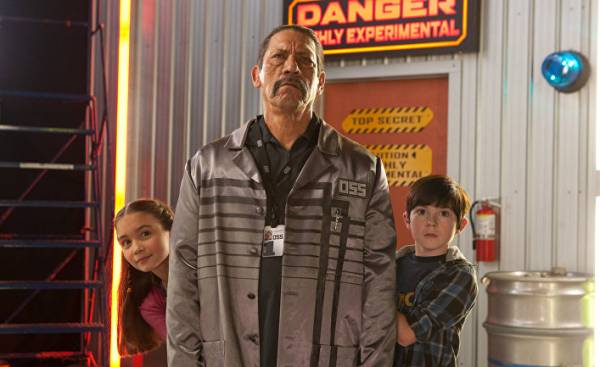 Society values a woman for love she brings home, and the man for his financial contribution to the family. But to evaluate the work of a woman who takes care of old, sick or disabled relatives, and especially the work of the man who takes upon himself such a task, much harder.
To take care of loved ones, suffering from chronic or severe diseases just need love and compassion, so traditionally it was women. But in light of the aging population, the increasing involvement of women in the labour force and the increased cost of health care, this process involves all family members.
"These challenges increasingly fall on men: women are actively participating in the labor market, which naturally affects the way of life for the whole family. And generation Y, after studying at universities back home, forced to that the current economic situation and the situation on the labour market. As a result, under the same roof is a few generations, and the cost of living is increasing. While nursing homes become too expensive. Many cannot afford, says Victoria Funes (Funes Victoria), associate Director of the American Association of retired persons (AARP, Florida). — In addition, according to statistics, a growing number of people with chronic diseases".
According to a recently published report, "Breaking stereotypes: men nurses," prepared by non-profit organizations American Association of retired persons and the "Ad Council" (Ad Council), engaged in the provision of public services, a growing number of men, especially among related to generation Y, who devote themselves to this unpaid work. They account for 40% of the total number of nurses. In the case of the US, 16 million men.
These men are not weaker than the other and not inferior to them in manhood, but, for the most part, they feel inferior due to the fact that dealing with this case. AARP launched a campaign in English under the slogan "Stronger than the strong". A similar campaign will be conducted in Spanish. Its aim is to draw attention to the men involved in this free work, and to get others to recognize and appreciate their Titanic work.
"In the case of men, the society is more difficult to recognize the importance of the work they do. After all, before a man went from home to work and, first and foremost, support the family financially — stressed Funes. — There are certain stereotypes at the level of mentality and culture that are traditionally assigned to men and women. Society is harder to assess such unpaid work when it is performed not women and men".
Hispanic USA men are more likely to be caregivers
Traditional portrait of a man who cares about home, has changed. Earlier this role was played by the woman aged about 49 years. The average age of men leading the household, is 47,8 years, but the real spread of ages is quite large.
28% of these men belong to a generation Y, born between 1980 and 2000. The average age of this group is 26.9 years. The average age of a son caring for his parents or wife's parents, is 46.4 years, and men who care about the spouse or the cohabitant, — 62.5 years.
19% of these men are immigrants from Latin American families. Out of every three male nurses generation Y, one is Hispanic, accounting for 32%. This means that we are talking about nearly 1.5 million Hispanic male-nurses-generation Y. 47% of men in the United States are Hispanic men.
"These data are very important. Hispanic men are always more in the family laid such notions as the need to care for older relatives and the disabled. This cultural feature. They don't give them to shelters, rehabilitation centers and similar institutions, says Funes. In their number also includes people who care for loved ones who have had a stroke, surgery, victim of temporary disability or Alzheimer's disease need long-term care".

Changed the list of tasks. More than half of these men, 54% of male caregivers, serve as nurses: you know, the shots, fed using probe and clean the wound.
"While they monitor the medications, help people to look after themselves, wash and dress, pay the bills, provide health insurance, conduct Bank transfers, file complaints, accompany the patient to the pharmacy and to the doctor." If the patient's condition deteriorates, they provide him with appropriate care for yourself, go out with him, doing what was done before by women," adds Funes.
Many of them say they are not ready for this, don't want to wash or dress of his relative. "This is due to existing psychological and cultural stereotypes about men and women. They feel unprepared, but at the same time doing this job," insists Funes.
Most nurses, regardless of their gender, is struggling with the care of relatives. They pay for his own health. According to reports, most of them suffer from depression, anxiety, depressed immunity, heart disease and premature aging. There are other possible physiological consequences.
"Male nurses is harder to ask for help than women. So the physical and mental health exposed to great risks, says Funes. — Men always think they can do anything. So they, unlike women nurses, not asking for help from neighbors, relatives or support groups".
David Rosmond (David Rosemond), 62-year-old Cuban, who settled in Miami, I never thought that caring for his elderly father Anastasio of Rosmonda suffering from eye problems and senile dementia, could cost him his job and, as a consequence, marriage. Rosmond, the eldest of three brothers, always counted on their support. Initially, his parents lived on their own.
"I loved my father and cared for him more than two years. My mom died in hospice. At first I just cooked for my family and parents, but, in the end, I began to do all the housework and paying the bills," he says.
The family of Rosemond hired a professional nurse, but "the father wanted to help him bathe and go to the toilet. He only went with her for walks and to the doctor — continues Rosmond. We could no longer pay and give it to a shelter, but at the weekend took him home. He was like a small child, did not control their actions. It had to feed, needed to satisfy his hygienic needs. The hardest part was to drive him to the doctor".
"I felt prepared. In Cuba I worked in a psychiatric hospital and because he knew how to handle such people: they often repeat the same, aggressive, sensitive to cold and heat," says Rosemond.
Many nurses losing their jobs, and some of your other half. In the case of Rosmonda care for parents was hit hard on his work, and marriage.
"I had to spend one night in the hospital, and this cannot be good for relations, especially in crisis period, because the time for a relationship remains. We just got married and I lost my job of civil servants", — complains Rosmond employed at that time adviser on the transactions between the private sector and city hall.
Statistics on the Hispanic population of Florida
According to the report, most of the Hispanic population living in Florida and having age more than 45 years, has experience caring for relatives. 24% of them are caring at present for sick older people, older persons or persons with disabilities, 35% of them did it in the past for free. More than half, 56%, never did care, but I believe that it may need in the future.
Almost three quarters, 74% of people involved in and engaged in care, say that perhaps they need to re-do it in the future. Most of them, 93%, thinks that providing caregivers, additional resources and training to enable them to continue to keep the house and household.
67 percent of Hispanic caregivers surveyed in the territory of Florida, complained of emotional stress, 38% said about the financial problems. 64% indicates problems with the rest, 56% for the inability to exercise, 35% on the unhealthy diet, 36% lack of time to consult your doctor.
50% Hispanic nurses also complain of the stress of simultaneous workload at work and at home. 45% say the stress caused by the work around the house.
People who were engaged in care, Express a wide range of functions: 75 % of these people gave his players drugs, 83% cooked, and 83% supported social activity, 80% were engaged in housework and transportation, 75% helped by medicines, 68% had managed the family budget.
More than one third, 37% of male carers never say to their employer that their care is the person needing care. In the case of generation Y, the figure is even higher and amounts to 45%.
Rosmond never told my boss that cares for the father, "because it is a matter of women, not men, and to predict how it will perceive, very difficult."
According to the report of RPA, the average person caring for relatives, spends about 6 954 USD per year, equivalent to around 20% of its revenues. "I spent all the savings of his father and his family," says Rosemond.
44% of all male carers (more than 4 out of every 10) have a household income of less than 50 000 USD per year. "Today, the decision to care for loved ones is, primarily, economic in nature," says Funes.
The report also indicates that it is unlikely that the current proposal of family caregivers meet future demand.
49% of all male nurses believe that they had no other choice. And more than half of them, 52%, believe that they have to take care of someone in the next five years.
Comments
comments