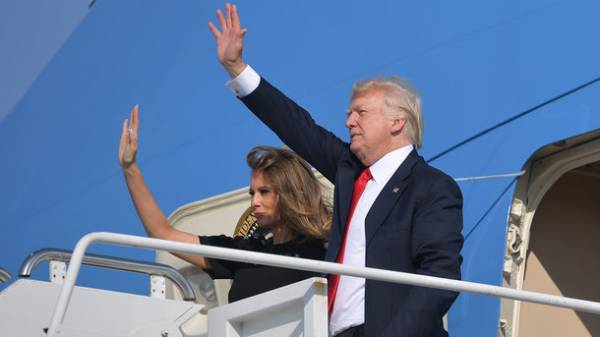 Not to do "daring conclusions" from the fact that the wife of the President of the United States Donald trump Melania twice refused to shake his hand when exiting the aircraft during official foreign visits, "extremely cute" couple of Trumps is unlikely to face a divorce. This view of "observer" stated, the Russian publicist Alexander Nevzorov.
"We're all very familiar with the little tramp. Maybe he does not wash his hands after using the toilet, and it was his wife aware of his strange habits. Maybe during the flight, he tends to get his hands dirty. Maybe he does, in the end, at the sight of such a large number of sheikhs just sweating hands," admitted the journalist.
"To make any bold conclusions about family relationships and intimate touch spouses let's not" he said.
However, Nevzorov has noticed that Melania trump likes to be the "first lady of the world". Moreover – it is "pretty good". In this context, he recalled the "beautiful and daring" gesture Melania during the visit of Donald trump to Saudi Arabia. In the presence of "dumb sheikhs" she "shook all the curls immediately", implying: "I before you head does roll up I won't out of respect for your barbaric customs."
"I hope that everything is okay because the couple is extremely attractive," said the publicist.
The full version of the commentary of Alexander Nevzorov look here:
As reported, on may 22, the wife of the President of the United States Donald trump did not take his arm at the airport in tel Aviv (Israel).
May 24, at the time of arrival in Rome, Melania repeated the same gesture.
Comments
comments