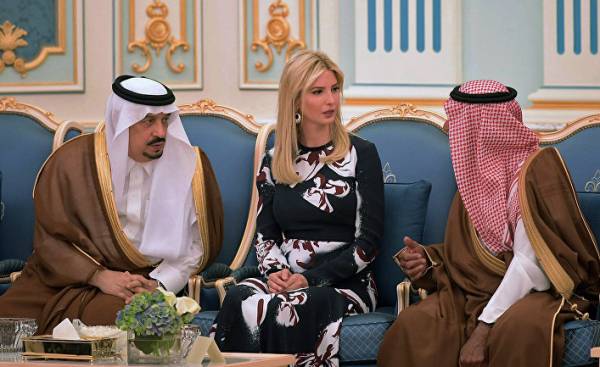 The daughter of the President of the United States Donald trump Ivanka trump with her husband was fascinated by the Saudis on arrival in Riyadh.
Ivanka was inspired by the upcoming trip to Saudi Arabia with her husband and father, also she made Twitter posts and on the page in Facebook.
A few hours before his arrival in Saudi Arabia Ivanka said: "Embarking on his first foreign trip of this administration, I look forward to this historic and meaningful visit to the middle East and the Vatican to promote religious tolerance in the world."
The hashtag #Dockman in Saudi Arabia
Immediately after its arrival on the Internet of the Kingdom appeared the hashtag #dockman… He took first place in Twitter by Saudi Arabia in terms of popularity.
اول فيديو لوصول ايفانكا ترمب لمقر أقامتها في الرياض عن الهروب وأنباء نيتها للفلبين ?#قمة_الرياض #بنت_ترامب pic.twitter.com/lJ6i43qva7
— mohammad (@alone17x) may 20, 2017
​
She also appeared in a video posted on his Twitter, the former heir to the throne of Mukrimin Abdul-Aziz. A member of the Royal family explains Ivanka Arabic coffee traditions. After learning them, Ivanka laughed.
#بنت_ترامب الامير مقران يشرح طريقة هز الفنجال pic.twitter.com/i7FXKIQyAH
— سعود الشريم الزعبي ↪ (@booob1551) may 20, 2017
​
Son-in-law of U.S. President Jared Kushner became the hero of the discussions in social networks in Saudi Arabia. From Kouchner has its Saudi fans, who wrote about it in their tweets. Girl from Saudi Arabia hunted for a photograph, which Kushner Ivanka keeps hand
#بنت_ترامب
زوجها ماسك يدهاا يالله موتو قهر?? pic.twitter.com/99vRNtf7bD
— نيد#النصر (@need__777) may 20, 2017
​
Changeable trump… Now the hijab is not needed!
Us media reported that no woman in the delegation of trump, led by Ivanka and wife of the President Melania did not cover his head, as did Michelle Obama and ex-President of America Barack Obama, but still the king of Saudi Arabia shook the hand of Melanie trump when she got off the plane.
In 2015, the trump in his Twitter criticized Michelle Obama because she wore a burqa, claiming that many were offended by it.
Many people are saying it was wonderful that Mrs. Obama refused to wear a scarf in Saudi Arabia, but they were insulted.We have enuf enemies
— Donald J. Trump (@realDonaldTrump) January 29, 2015
Many said that it is wonderful that Michelle Obama not wearing headscarf in Saudi Arabia, but it offended them. We have enough enemies!
Trump and Ivanka performed a celebratory dance
Trump, his wife, daughter and son-in-law, made famous marching dance: the President held the sword and danced with the Saudi king in the presence of the crown Prince and defence Minister Mohammed bin Salman.
الرئيس الأمريكي دونالد ترامب يؤدي العرضة #السعودية.
#قمة_الرياض
pic.twitter.com/0iXYVNRwTQ
— نايف العتيبي (@Naif_laheq) may 20, 2017
Comments
comments