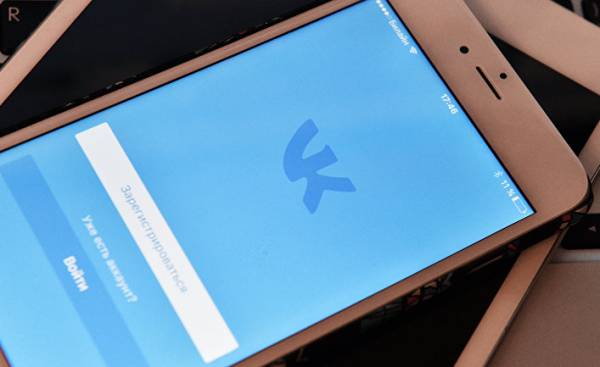 Referring to the fact that Russian cyber attacks are a threat to national security, the President of Ukraine Petro Poroshenko on Tuesday signed a decree banning three years several popular Russian social networks, and also other Russian websites and news agencies.
The move is part of an integrated package of cyber sanctions against Moscow, which includes a ban on "Vkontakte" popular in Ukraine Russian-language website, which, in essence, is the Eastern European version of Facebook.
"I urge all compatriots to immediately get out of the Russian services security considerations", — wrote Poroshenko in his closing statement on his own VK page on Tuesday.
"Mass cyber attacks to the Russian Federation in the world, in particular, the recent intervention in the election campaign in France, indicate that it is time to act differently and stronger," wrote Poroshenko. He urged his followers to follow him on other social networking sites, such as Twitter, Facebook and Instagram.
Ukraine is the second largest area VK after Russia. About 12 million Ukrainians use Facebook monthly, which is approximately 29 percent of the total population of Ukraine is 42 million.
In addition, the prohibition applies and on the Russian social network Odnoklassniki, which has 5 million users per month, from Ukraine, the Russian search engine "Yandex", and the postal service Mail.ru.

Many Ukrainians oppose sanctions
"It's like if your dog died,' said Lily Dery, 21-year-old student of National linguistic University of Ukraine in Kiev, saying that the ban of social networks. — It will absolutely change my life."
Ukrainian sanctions relate 468 Russian organizations and their subsidiaries in Ukraine, and 1 thousand 228 people.
It was also banned several Russian TV channels and web sites, including NTV, news Agency RIA Novosti and RT, or Russia Today — news channel funded by the Kremlin and broadcast in the United States and Europe.
"I don't think it's a good idea," said Alexander Kulikov, 24-year-old lawyer who lives in Kiev.
"The relevance of this prohibition in international law is questionable and certainly not consistent with the principles of a free society, — said Kulikov. — In addition, Vkontakte popular social network in Ukraine and is a whole market of services, which we lose as entrepreneurs and consumers. And it has no negative or positive consequences for national security."
The decision is a consequence of the recommendations of the Council of national security and defense dated 28 April. It is expected that the prescribed measures will take effect from 1 June.
On Tuesday, Dmitry Peskov, press Secretary of the President of Russia, called the Ukrainian sanctions are "yet another manifestation of an unfriendly, short-sighted policy towards Russia."
"Not so much major information resources in Ukraine, which are popular in Russian-speaking countries", — said Peskov.

Information sovereignty
For many Ukrainians, especially the "Millennium", VK has become an integral part of life. Its instant communication is a popular means of communication. This is the place where many people find their music, organizovuyut community events and advertise your business. University students used chat rooms and instant messenger to coordinate training sessions and discuss homework.
"Blocking social networks is a trick Poroshenko," — said Eugene Semehin, 30-year-old Director of public relations in the Ukrainian construction company.
"He just switches the attention from the corruption issues on emotional topics, said Semigin. My business will not suffer from locking. But I have friends who make trade via social networks. Poroshenko is a good disciple [of the President of Russia Vladimir Putin]".
Some experts, however, praised the step, saying that we're going to do it.
"If it would be possible to do this, it will be the biggest contribution to the protection of the information sovereignty of Ukraine in all the time," said Yevhen Fedchenko, Director of Mohyla school of journalism of Ukraine and founder of the StopFake, a news site devoted to debunking Russian propaganda.
"I stopped using the Russian services in 2010, after 300 emails disappeared from my mail on mail.ru" — said Lyubov Velichko, a journalist from Kiev.
"At the same time I deleted my Facebook profile because I don't want the Russian security services to keep track of my chats with friends, — said Velichko. In any case, I understand the decision of the national security Council. This is not an attack on the right to use Russian social networks. The sanctions against Russian companies that make money on the Ukrainians. In addition, these sanctions will help to confront and control the computer resources that can be used in cyber warfare against Ukraine".
Other Ukrainians took the middle ground. They said that the country needs to strengthen its cyber defense, but I doubt that the ban, announced Tuesday, will be effective.
"Overall, this initiative is correct from the point of view of national security, but, unfortunately, the lock will not stop Ukrainian users use Russian websites and resources… There are so many ways to bypass the lock," says Michael vasyanovych, 29-year-old Executive Secretary of the Ministry of information policy of Ukraine.
Vasyanovych heads the Ukrainian company in the field of information technology, SmartGT that develops web pages for public and charitable organizations and civil society groups.
He said that government officials should clearly explain to Ukrainians why the ban is important for national security.
"In a hybrid war it is possible to prohibit the use of these resources by the military, government officials, government agencies, but other Internet users, you need to explain how to use the information collected against them," said vasyanovych.

Hybrid warfare
The combined use of propaganda and cyber war to support military operations in the field is a hallmark of Russia's "hybrid war" is a modern interpretation of Soviet military doctrine called "deep battle" in which military operations extend beyond the front line deep into the territory of hostile countries so as to discourage its ability to wage war.
In Ukraine Russian military forces combined kinetic military operations against cyber attacks and graceful with campaigns aimed via television and Internet audience. Russia has used propaganda and cyber-attacks to lay the groundwork for their invasion in 2014 on the Crimean Peninsula of Ukraine and the further progress of the war in the Donbass.
In an earlier statement, in a letter to Poroshenko described the scope and impact of Russian propaganda and cyber-attacks on Ukraine.
"Whether it is Ukraine, the EU or the US, Russia has the same playbook and goals, — said Poroshenko. — It uses a hybrid war, the so-called "fake web news", cyber attacks, cyber attacks on critical infrastructure, direct military intervention, and so on and so forth, to undermine Western democracy and break the transatlantic unity".
Poroshenko said: "For three years the Russian aggression we tested every method and technique of the Kremlin. And I must remind you that Moscow began its campaign in the Crimea and in the East of Ukraine, in particular, with subtle manipulation of information. Tanks, artillery and hundreds of innocent victims were late."
Ukrainian troops are at war with the combined strength of Pro-Russian separatists and Russian mercenaries in Eastern Ukraine since April 2014. Since that time, killed 10 million Ukrainians. 1.7 million have become internally displaced people. The Kremlin denies that it is involved in the Ukrainian conflict.
Recently, four civilians — three women and one man, were killed in the frontline town of Avdiivka during the artillery strike.
"Russia's aggression against Ukraine had undermined the foundations of security and stability in Europe, and is the antithesis of the vision of a Europe whole, free and at peace," said may 11 at a meeting of the OSCE Permanent Council in Vienna Kate M. burns, chargé d'affaires of the U.S. mission to the organization for security and cooperation in Europe.
"The United States reaffirms its unwavering support to Ukraine's sovereignty, independence and territorial integrity within its internationally recognized borders, said burns. — We do not accept and will not support Russia's efforts to change the boundaries of Ukraine".
Comments
comments