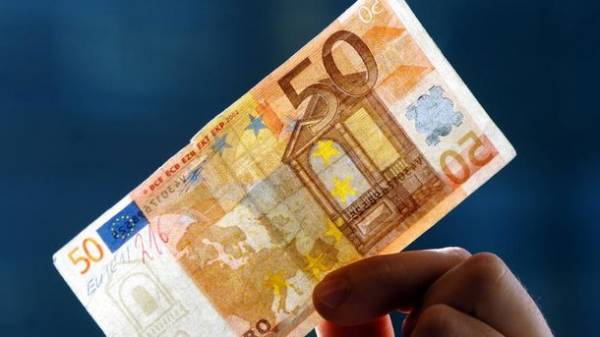 Today, may 24, the national Bank of Ukraine (NBU) has established such rates of major foreign currencies against the hryvnia:
1 USD – UAH 26.3;
1 Euro – 29,5 UAH;
10 Russian rubles – UAH 4,65.
Thus, the dollar, compared to yesterday's values? dropped another four pennies. Below 26,4 USD dollar did not fall from the beginning of January 2017.
The Euro fell to 11 after more than a week of rapid growth. The day before the course broke the record for all the past months of 2017 – so expensive eurocurrency last worth in mid-September 2016.
The Russian ruble is "lost" to the penny.
On Tuesday, may 23, the dollar on the interbank currency market of Ukraine fell by a penny on buying and selling. The auction ended with quotes 26,28 – UAH 26.3 million. The Euro was trading at the level of 29.5 – 29,52 UAH. Today's auction has not started yet.
Experts explain: the main factors of growth of the hryvnia against the dollar – the strengthening of the Euro and the dollar's decline on world currency markets. "Thus, the current growth of the Euro on the Ukrainian market is only a reflection of the processes occurring in the global currency markets. No connection with bezveza or grown demand for the European currency in the country is not," says a senior analyst "Alpari" Vadim Iosub.
As reported, after the may holidays, Valeriya went to a two-month vacation before the official resignation, and the duties of the head of the national Bank performs her Deputy Jacob Smoliy. According to experts, it can lead to growth of dollar rate to UAH 27.
In 2017, the Finance Ministry of Ukraine expects the rate of 27,2 USD per dollar. The head of the NBU Valeria Gontareva considers budgeted-2017 the dollar is realistic. At the same time 2017-1018 year, according to calculations of the Ministry of economy, the dollar could jump up to 35 UAH;
For 2015 , the hryvnia depreciated by half, and for 2016 , the hryvnia depreciated by 12.9%, entering the TOP 3 of the weakest currencies of the CIS;
According to the "big Mac index" , the dollar in Ukraine has to cost a little more than 8 UAH;
The historical maximum the official rate of the dollar – 30.01 UAH/USD. – was made in Feb 2015.
Comments
comments