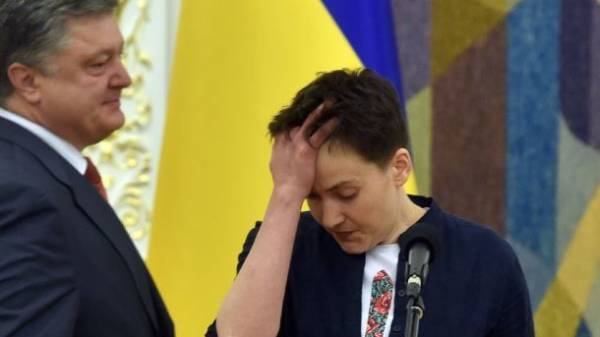 The people's Deputy Nadezhda Savchenko addressed to the President of Ukraine Petro Poroshenko with a request to veto the repeal by the Verkhovna Rada of the "law of Savchenko". She wrote about this in Facebook, having published the corresponding address.
According to her, the Parliament voted for the abolition of the "law Savchenko" 18 may violated article 22 of the Constitution of Ukraine, namely: "When adopting new laws or amending existing laws shall not be diminished content and scope of existing rights and freedoms."
"I draw the attention of the President as the guarantor of the Constitution of Ukraine, he should veto against the draft law, which was enacted on 18 may to prevent the violation of the constitutional rights of Ukrainians," wrote Savchenko.
She also noted that he had approached the Ombudsman with a proposal to exercise the right to constitutional petition of unconstitutionality of the Ukrainian Parliament's decision to abolish the "law Savchenko".
We will remind, on may 18, the Verkhovna Rada adopted amendments to the criminal code of Ukraine on the rules of summation of punishments and transfer of the pretrial detention, abolishing the so-called "law Savchenko".
Previously it has been reported that people released under the "law Savchenko" soon committed another offence and was in jail.
Comments
comments