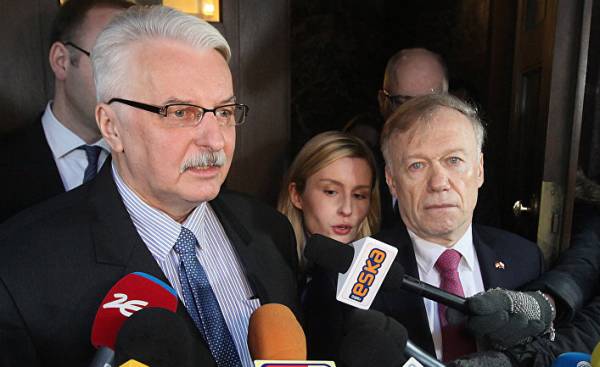 The Minister of foreign Affairs of Poland Witold Waszczykowski (Witold Waszczykowski) has demanded from NATO to start a dialogue with Russia. "We also need dialogue with Russia. From our point of view, it is important that NATO has sufficiently open channels of communication with Russia to engage in an exchange with Moscow and to discuss specific problems," the Minister said before the meeting of heads of state and government of countries-members of NATO on Thursday in Brussels.
"The security of Poland is based not only on military force and intimidation," — said Waszczykowski. Still political contacts between Moscow and NATO are carried out in the framework of the so-called NATO Council-Russia.
These meetings, however, are quite rare and are rather sluggish. Real progress, for example in the further actions in Eastern Ukraine or more mutual transparency in military exercises, has still not been reached.
The defense Alliance shall, according to Waszczykowski, to give Russia to understand that "redeployment of NATO troops on the Eastern border of the Alliance is not of a provocative nature, but it is only a defensive reaction to Moscow's actions in the border areas".
Moscow is amassing on its borders with Eastern countries-members of NATO, such as Poland, in a relatively short time without a Declaration of connection from a few tens of thousands of soldiers on exercises (snap exercises). Border States perceive these exercises as well as posted on the border weapons as a threat.
In General, the chief diplomat of Poland showed they were satisfied with the support of NATO and the Americans in their country. Both sides have placed in Poland about five thousand soldiers.
In addition, there is the multinational corps northeast, who runs the groups of fast reaction of NATO ("Spearhead"). They need to be in place for at most five days. Waszczykowski: "To intimidate and to reflect the hybrid attacks the five thousand soldiers of the NATO and the USA in Poland should be enough. But if Moscow pulls troops and massively attacking us, then this amount is not enough".
From this meeting, NATO on Thursday, which will also be attended by US President Donald trump, you should not expect a lot, said Waszczykowski. She, according to him, will have more of a "symbolic value". The Minister said further: "I do not expect that this meeting would be taken in any innovative solutions. No one does. Two hours dinner one cannot expect any big decisions."
"The Alliance of crusaders" of the 68 States
It would be primarily about, to officially open the new headquarters of the Alliance and the new US President trump and President of the French Macron, to meet with all other heads of governments of countries-members of NATO. "In addition to this can be discussed transatlantic relations and possible involvement of NATO forces in the fight against "Islamic state" (organization banned in Russia — approx. transl.)".
NATO on Thursday will make the decision to join the anti-terrorist struggle of the coalition against ISIS, which includes 68 countries. France and Germany has long resisted. They fear that this Alliance will be perceived in the middle East as "the Alliance of crusaders".
On the other hand, this accession will have few practical implications, it is primarily a symbolic policy. Along with the anti-terrorist struggle, it is primarily about money: Washington demands that allies required that they by 2024, will invest in the defense of two percent of GDP. This should prepare annual spending plans.
Comments
comments