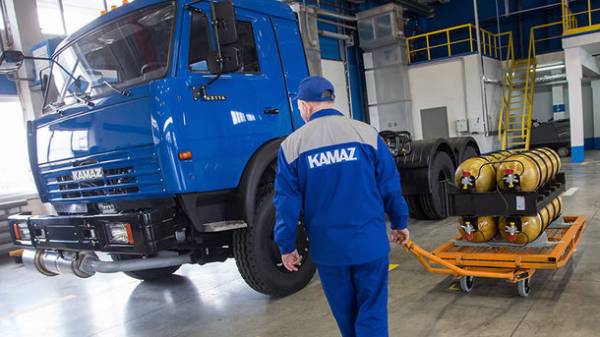 In addition to the widely discussed ban in Ukraine social networks Russian websites and in the sanction list and other products from Russia. Just the list of nearly 500 legal entities, among which there were Russian automobile manufacturers, PAZ, GAZ and KAMAZ, reports UBR.
Least from sanctions suffered by the latter. So, if KAMAZ restricted only trading operations, other Russian companies the right to use and dispose of property, to withdraw capital from Ukraine, and stopped the economic and financial obligations, etc.
No hearses and school buses
The sanctions technique mainly commercial. In Ukraine, it is used in many industries: logistics, agriculture, construction, transport. Even the funeral home was purchased Lasik.
"Russian automakers are the so-called budget and attract potential buyers affordable price. Now, of course sales will decrease or even stop," — said General Director of information-analytical group "Avtokonsalting" Oleg Omelnitsky.
At the same time problems with deliveries to Ukraine of spare parts required for maintenance and repair for equipment sold should arise, experts say.
It is also worth noting that the introduction of sanctions against Russian companies does not mean a complete ban on the sale of their vehicles in Ukraine: it is still possible to find in our stores (at least until they are sold out remains).
But the Ukrainian distributors now will not be able to participate in public tenders. And this is for Russian producers is almost equivalent to the loss of its market share.
For example, a GROOVE in recent years was more focused just on public procurement. He was able last year to become the leader in the purchase of school buses through the ProZorro according to formal criteria. The grooves were often the most accessible.
As for Gas, then for many years he was the leader of the market and only in the last 2 years began to take positions. Nevertheless, it remained one of the most powerful players in the market of commercial vehicles. These cars prefer to buy the business. The main ridge of the Gases, again, reasonable price.
Looking for loopholes
KAMAZ started to lose its position before the war 2014. In 2014, the deliveries of cars of this brand in Ukraine stopped, but the market had a lot of "frozen" Trucks that were sold all these years.
"KAMAZ was previously under sanctions. However, entrepreneurs have found a way to sell them — sanctions concerned legal entities, so the sellers just re-registered on Fapi, and implemented them in this way. Nobody can stop me, as natural persons, to sell my property. Think it is possible that this example could be followed by other manufacturers," — said in an interview with UBR.ua the Ukrainian Association of automobile importers and dealers Oleg Nazarenko.
With the introduction of norms of Euro-5 in Ukraine, KAMAZ started to forget and, increasingly, to look to European cars as well as in Turkish Ford. Place of KAMAZ on the Ukrainian market took the Belarusian MAZ and Ford, IVECO, MAN, SCANIA, VOLVO.
"Surprisingly, Ukrainian KrAZ not taken advantage of the situation and was not able to take the place of a Russian competitor, although their products are in many respects similar," — said Oleg Omelnitsky.
For example, as told to us by the Association of international road carriers of Ukraine (ASMAP of Ukraine) our carriers use mostly modern trucks (buses) from Europe — Mercedes, MAN, Volvo, IVECO and others.
"Therefore, the ban on the supply of Russian-made cars on the territory of Ukraine, shall not in any way affect the work of national and international carriers," he assured us ASMAP of Ukraine.
In the case that sanctions will be tightened, consumers just pereorientirovanija to other brands, even after the return of Russian brands on the market, their sales will not return to previous levels, experts say.
"The same way the Russian vehicles took place in the Baltic States and Eastern Europe, where it "went" in the ' 90s and was never able to regain the popularity. As it is not banal sounded, but the Ukrainians just otuchat to buy these cars. Therefore, the decree is very serious impact on these brands. Although Ukraine was for many years the No. 2 Gas and Groove and No. 3 for KAMAZ", — said Oleg Omelnitsky.
Change on b/u
However, the question remains about the availability of brands-competitors of the Russian equipment. Alternatives of Ukrainian origin we have, and cars Ukrainian Assembly, for example, Hyundai, and even better, but more expensive than Russian products.
In this regard, experts do not exclude increased activity in the secondary market, where recent sales have definitely decreased.
"For business is often much more relevant rental or leasing of equipment than buying it. However, the decline in sales of Russian GAS, KAMAZ and PAZ observed a long period. These cars are inferior in reliability and quality to its competitors. Therefore, we may not see big changes in the market", — noted in a conversation with UBR.ua independent autoexpert Sergey Dolgopolski.
At the same time, according to Oleg Omelnitskogo, those companies that will be forced since to get rid of Russian cars, replacing them with more expensive, are unlikely to lay the costs for equipment in the value of their services and products, as the existing fleet in Ukraine is very large and update accounts for only a fraction of a percent.
Comments
comments