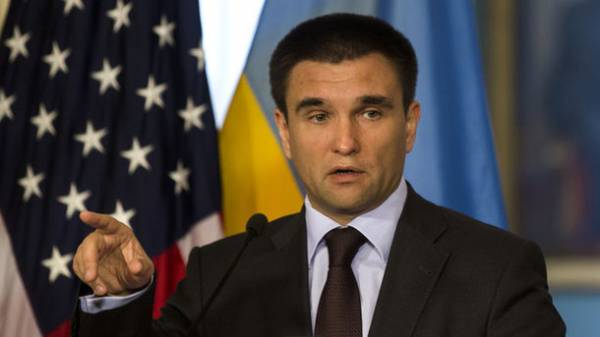 For Ukraine, the date is not important, the main thing – to hold a meeting of the President of Ukraine Petro Poroshenko and U.S. President Donald trump.
This was stated by Minister of foreign Affairs of Ukraine Pavlo Klimkin, answering the question "Today," on the sidelines of the 10th anniversary of the Kyiv security forum.
"Can you hear any dates, formal or informal. First, I always say, if I know about the formal part of this meeting, I, unfortunately, today will not say because this should be a General solution. The preparation for this meeting underway. We talked about this on Friday (in the framework of the Commission Ukraine-NATO in Brussels – Ed.). We, of course, the desired result and an understanding of how we come to this result. We are now working very closely with the American party, and at different levels with different representatives of the American administration," – said Klimkin.
To the question "Today," on whether there will be such a meeting before the meeting, trump and Putin, Pavlo Klimkin said, "Well, it's not a game that anyone who… Again, for us the result is important. To talk about how we're changing there dates… the Important thing is that we have a consistent position of the us administration. You this position heard. And anyway, who can trust Russia? Me what happened in Syria, struck not just as a policy but on a human and emotional. Used chemical weapons, and it's really a crime against humanity. You saw how yesterday there was a discussion at the UN security Council. When we tried, our American and British friends, all tried to put pressure on Russia. And as a result we can't accept any resolution. Well, what kind of real trust, conversation, can we talk? And all perfectly understand it. Since the steps taken by Russia in the Donbas, something that is done in Aleppo, what is being done by Assad in Syria, they really fall into a single context. And it is also clear to everyone".
We will remind, the Ambassador of the USA in Ukraine, Marie Yovanovitch stated that the first meeting of the President of Ukraine Petro Poroshenko and U.S. President Donald trump should be prepared as best as possible.
Previously Deputy head of the presidential administration of Ukraine Konstantin Eliseev said that the meeting between Donald trump and Peter Poroshenko to be held before the scheduled July meeting of Putin with the President of the United States.
In an interview with "Today," Elisha explained that the postponement of the visit of the President of Ukraine Petro Poroshenko in Washington to meet with his American counterpart Donald trump is connected only with internal problems in the White house.
In February Poroshenko and the tramp more than an hour talking on the phone.
Comments
comments