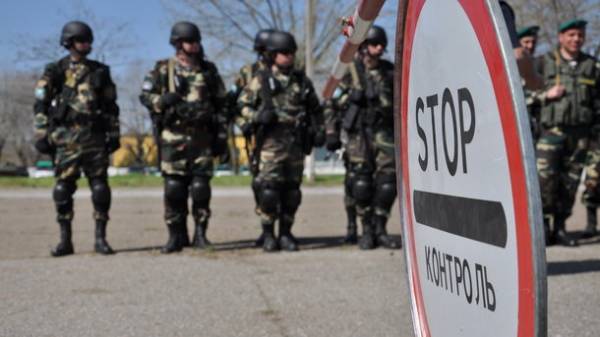 The Ukrainian side would respond to a possible appeal to the unrecognized Transnistria to Moscow on the deployment of Russian representatives at the checkpoints of the Transnistrian section of the border with Moldova. This was stated by the head of the Subcommittee on security of state information systems of the Verkhovna Rada Committee on national security and defence, Irene Frieze (fraction "Block of Petro Poroshenko").
"The statement of the foreign Ministry of the unrecognized Transnistria Ignatieff of intent to appeal to Moscow for placing its representatives at the crossing points of the Transnistrian section of the border with the Republic of Moldova heard and will not remain without attention of the Ukrainian side. In the case of the treatment will initiate complete closure of crossing points in these areas. It is clear that the entire border can also be closed up to restore the territorial integrity of Moldova in case of occurrence of any military or other representatives of the aggressor country near the border of Ukraine from the "TMR", – said the MP.
According to her, Ukraine is now a sufficient Arsenal of non-military measures to "eliminate the threat from this direction".
"Our attempts to force the PMR to remove the Russian ogrf (Limited contingent of Russian troops – Ed.) with the territory don't seem to understand in Tiraspol. It seems there comes a time to resort to the clearer and more rigorous political-economic explanations, to the "play the fool" the Transnistrian leadership stopped", – summed up the Frieze.
As you know, on the territory of unrecognized Transnistria is a Limited contingent of Russian troops (more than 1.5 thousand soldiers).
We will remind, the President of Moldova Igor Dodon considers that the Russian troops stationed on the territory of unrecognized Transnistria, will be withdrawn after the final settlement of the Transnistrian conflict.
The constitutional court of Moldova has ruled that the stay of Russian troops in Transnistria contrary to the Constitution of the country and its neutral status.
The only foreign leader at the celebration of victories and 9 may 2017 in Russia was the President of Moldova, Igor Dodon, which supports the strengthening of relations of his country with Moscow.
Comments
comments