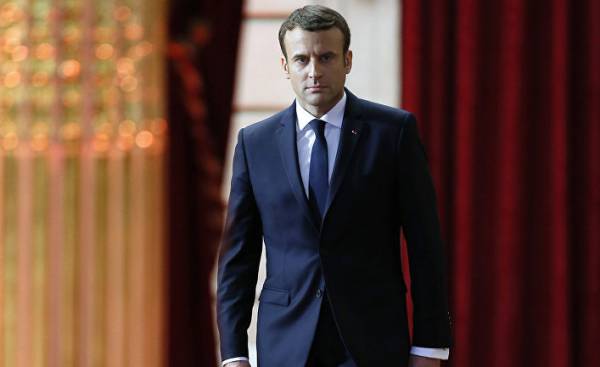 Russian President Vladimir Putin on Monday, may 29, went to Paris, where he will meet with newly elected President of France Emmanuel Macron. On the eve of the French President said in an interview with Journal Du Dimanche that with respect to Russia, but will not give the position to Vladimir Putin.
That Vladimir Putin is coming to Paris, became known only a week ago. Emmanuel macron, the newly appointed President of France in mid-may, invited the Russian President to visit his country during a telephone conversation. And then the reason appeared: in the Palace of Versailles presents an exhibition dedicated to the 300th anniversary of the journey of Peter to France. Among the meeting topics will the conflict in Ukraine. However, the Director of the Moscow Bureau of Agence France Presse Nicolas Miletich in an interview with Radio Liberty said that it is not necessary to wait in this and other issues of serious steps.
"This is the first personal contact, we already know that no treaties will be signed. Probably will be a General conversation about Syria, about Ukraine, about terrorism. But expect that there will be a big step forward, hardly worth it. The speaker of the Macron said that they will start a dialogue, but that does not mean that the positions of France and Russia will immediately begin to converge. It just means that the dialogue need to maintain it," said the French journalist.

Required meeting
Russian-French relations at the end of the presidential term of françois Hollande was pretty cool. And expect the first meeting between Putin and Macron sudden warming would be naive, says Director of the Institute for French studies at the RAS Institute of Europe Yury Rubinsky.
"I don't believe there will be any breakthrough in bilateral relations. But the fact that today separates the EU and Russia — it list of sanctions, the policy on which it appeared, i.e., the problem of Ukraine, Crimea — all this is negotiable. Meeting with Macron, in my opinion, is a necessary item. And the fact that there goes Putin, speaks for itself: both sides, agreeing with this format, not doing this in order to once again Express their criticisms and to disperse," — said the expert.
Who needs enemies
On the eve of the French President asked the relatives of Ukrainian political prisoners in Russia. In their letter they asked Him to appeal to Putin demanding the release of Ukrainian citizens.
The Macron turned and six Russian writers. They urged the French President for clemency and asked for pardon… Ilich ramírez sánchez also known as Carlos the Jackal. Venezuelan terrorist serving in France, life imprisonment. To paraphrase a famous saying, that such writers in the struggle against terrorism, Putin's enemies are no longer needed.
Comments
comments