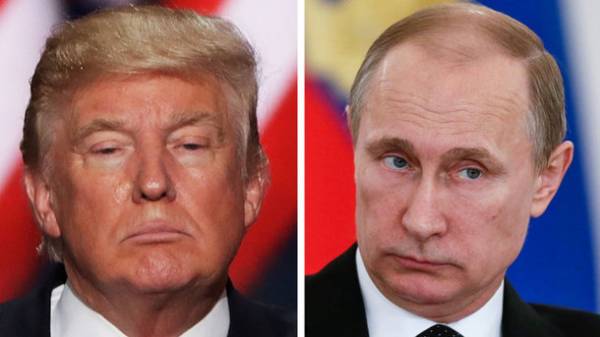 Even if the presidents of the United States and Russia will meet in late may, it is unlikely they will reach any agreement on Ukraine. This opinion in comments to the website "Today" stated Professor of political science at Rutgers University in Newark (new Jersey) Alexander Motyl.
"Relations between the US and Russia is very bad and there is no reason to think they will suddenly improve. Then continue to criticize trump and Co. for their ties with Russia. The investigation of Moscow's interference in the electoral process. Trump suddenly realized that NATO needs. His advisers talk about Russia as about the threat call. In Syria, problems etc. Therefore, the purpose of the meeting was mainly informative. You need to start the conversation. Whether in such circumstances, some important agreements, particularly in Ukraine – is unlikely, "–says Alexander Motyl.
We will remind, earlier this week the Russian newspaper "Kommersant" with reference to sources in the government of the Russian Federation said that the President of the United States Donald trump and the owner of the Kremlin, Vladimir Putin may meet in late may. As noted, 25-27 may trump will arrive in Europe to participate in NATO summits and G7 and can call in one of the European countries to meet with Putin. On the question of the meeting of the presidents of the United States and Russia began to work actively after being in Moscow with official visit on 12 April I visited the head of the U.S. state Department Rex Tillerson.
At the same time, Ukrainian officials and diplomats have repeatedly stated about the preparation of the meeting of Petro Poroshenko with Donald trump. It was initially reported that the talks between the leaders of the USA and Ukraine was held in February. Later in early April, the head of the Ukrainian foreign Minister Pavlo Klimkin, answering the question of the site "Today", and when such a meeting takes place, said: "the Preparation for this meeting underway. We, of course, the desired result and an understanding of how we come to this result. We are now working very closely with the American party, and at different levels with different representatives of the American administration."
On the question of the site "Today" about whether there will be such a meeting before the meeting, trump and Putin, Pavlo Klimkin said, "Well, it's not a game that anyone who… Again, for us the result is important. To talk about how we're changing there dates… the Important thing is that we have a consistent position of the us administration. You this position heard. And anyway, who can trust Russia?".
Comments
comments