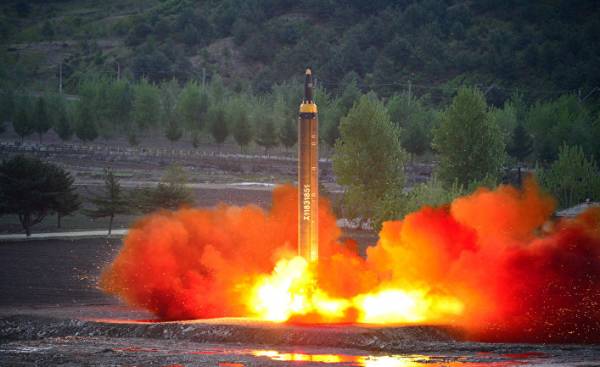 Several heads of state had to blush with shame after North Korea launched a ballistic missile. It is Chapter of China XI Jinping, Russian President Vladimir Putin and South Korean President moon Jae-In.
14 may, when the DPRK took this step, in China launched the international forum of "One belt, one road" about a modern version of the silk road and implementation of the idea of global economic zones that proclaimed XI Jinping. China made this forum as the largest diplomatic event this year. The North Korean delegation were also invited.
And then came the bombshell. At the opening ceremony, XI made a face like he had to swallow the bitter pill. He failed to hide the fact that he is shocked. He never hinted that North Korea launched a ballistic missile.
The missile fell into the sea not far from Russia, 400 kilometers from the Korean Peninsula. Commenting on the North Korean threat, President Putin held a course on dialogue, when suddenly a missile fell right by the porch.
But most of all, North Korea has mocked at the new South Korean government.
During the election campaign of moon Jae-In stressed the importance of dialogue with Pyongyang, and during the inauguration ceremony said: "If the right conditions are created, I will go to Pyongyang".
With regard to personnel policy, he has also appointed people who are set up in relation to DPRK's peace-loving. The head of the RK on a friendly wave. However, the rocket launch by the DPRK confirmed that the politician moon Jae-In is just an illusion.
What about China, Russia and South Korea will wash away the shame?
Comments
comments