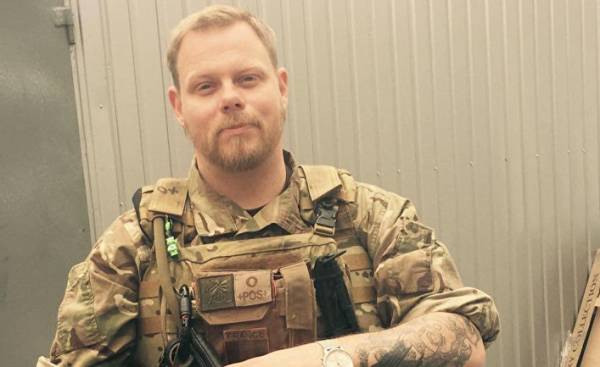 Two hour Swedish footballer and sniper Michael Sillt (Mikael Skillt) told me about his years in the Ku Klux Klan and the time when he was a Nazi Swedish resistance movement. Before heading out of the restaurant in Kiev home to his pregnant wife, he told about what happened in the East of Ukraine.
"I saw through the telescopic sight of the Russian soldier and fired. "Oh my God! — I thought. — Oh, shit!" The distance was so great that I couldn't hear him scream, but I saw through the telescopic sight that he was badly hurt. I think that it was a painful shock. This caused severe stress to my assistant. In the end, he gave me information about the distance and the force of the wind".
He shouted to me struggling: "Three divisions higher!" Then I again raised the rifle and thought, "We need to finish it all right." But I hit him in the thigh. The video, posted them to YouTube, it is removed together with the Nordic legionaries on the front line.
The style of the story Shillito similar to the way such events are described in the militants: he says dramatic and with many details, friendly and confidential tone, therefore we do not understand, whether it is an event of sadness or pleasure.
This ability to imagine myself made it a certain character poster and a well known figure in Kiev. Thousands of people read his Twitter message. He was interviewed by Newsweek and the BBC. In the YouTube clip of Sellit appears as "the Swedish Nazi sniper".
His face is a little rounder in comparison with what was on the front. He's blond with short hair.
"I tried to explain all this to his wife. I know that I can kill people without any remorse. But this certainty scares me. Every day. All the time from August 2015 when I was at the front last time, I'm scared. I'm scared that I can get into a situation when you lose control and completely automatically kill the man."
Appeared a rare pause.
"When I returned home from the front, we went with my wife for lunch at a nice restaurant, and all was well. Suddenly I noticed in the street some drunk. He abused his dog. And immediately… BAM!"
He made a snap of the fingers.
"I jump up from my chair, grab a butter knife lying next to the plate, rushing to the door. And the only thing that stopped me from becoming a murderer, I had a feeling that someone grabbed me by the ear so hard that it cracked. "Michael, Michael!" "Damn it, Michael!". It was the wife.
He shook his head.
"Whew!".
VG: why did you knife seized?
"I don't know. At the moment I do nothing thought."
28 Feb 2014 former construction worker, bought a one way ticket to the Ukraine to be a foreign Legionnaire in the notorious Azov battalion, a paramilitary group composed of volunteers. Many of his soldiers are nationalists, right-wing extremists and neo-Nazis.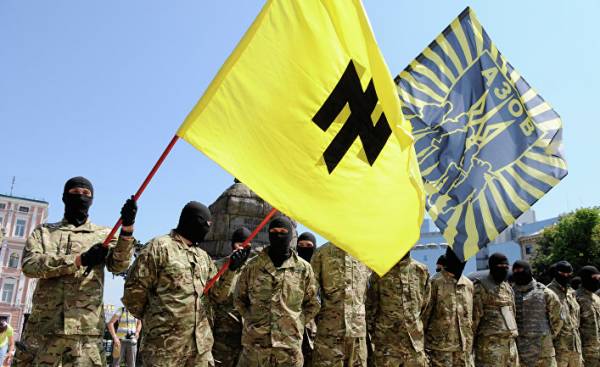 © RIA Novosti, Aleksandr Maksimenko | go to fotobabble battalion "Azov" took the oath in Kiev before being sent to the Donbass
According to Shillito, he was there along with seven Swedes and one Norwegian. They went to the far East of Ukraine, where they waited for the Russian separatists.
This conflict has killed 10 of thousands of soldiers on both sides. Sillt his rifle took the life of 20 of them, as he told Swedish newspaper Expressen.
He went below, together with its ideological brethren to fight at the front. In addition, he thought: "If the Russians take over Ukraine, they will then take over and Finland. And from there to Stockholm."
He went primarily because my whole life doing what the majority around him considered it not particularly clever.
At the age of 19 he left his wife, work and on the plane went to Fort Lauderdale, Florida, to become a member of the Ku Klux Klan. After that he flew to Chicago, where "I was waiting for a fat guy weighing at least 160 pounds. Both arms were covered with tattoos".
Four hours later they were driving through the desert between fields of corn, and then stopped in front of a barrier. It was dark. For watchtower Sillt saw the man with the Kalashnikov. The car door swung open.
"I was dragged from the car, pinned to the wall, immediately searched and was immediately subjected to cross-examination. My only thought was: the end of life — in the corn field, on the draw area."
He spent six years as a member, maybe the most famous racist organization, the purpose of which is white supremacy, and all this time, not only in the United States.
In Sweden Sillt created the organization "European White knights" (European White Knights), which was supposed to represent the Ku Klux Klan in Scandinavia. But Sillt wanted more.
In 25 years, he was recruited by a member of the Nordic resistance movement (Den nordiske motstandsbevegelsen), the largest neo-Nazi organization the Nordic countries with offices in Norway, Finland and Denmark.
A friend of a cousin was a member of this organization and wanted to attract into its ranks and Sellita.
"At home in Sundsvall about me saying I can fight," — says Sillet.
To the table the waiter came. In fluent Russian, he orders tea.
"I'm not fighting so much, but I fought pretty hard. I was so called bull".
What does that mean?
"I could hurt people. I'm not proud of this, but it's always I was good at it. It is not so much about physical but about mental strength. I am always perfectly calm. And war the same way."
A quick smile:
"Those who say they do not feel fear when around whistling lead, lie shamelessly. But in General, I never feel stress."
A year after joining the resistance movement, he became Deputy commander of the Department Norrland. Together with the leadership of the organization, he talked about the cleansing of the people and the armed revolution. "We have ambitious plans". The people around him, he has stated that he hates Jews.
In his first interview in Ukraine, he spoke about the struggle for white Europe. He wanted to send greetings to your friends in the resistance movement, which broke up a few years ago.
One of the reasons was the girl he met on a chat program.
"We had coffee together, and we had complete agreement. She, like me, don't really like Muslims, here we were well suited to each other. Gradually we became a couple, although it was a pretty stormy relationship. One day I came into our apartment and found there a letter from the Israeli Embassy. It was addressed to her. "What the hell is this thing?" — I asked. She opened the envelope and said, "This is my passport."
Sillet says that then the conversation proceeded as follows:
Chillt: I have nothing to do with it? Israeli passport?
Girl: But I'm Jewish.
— What!? You're Jewish?
He thought, "You look like a regular Swedish. You're absolutely white."
— My maternal grandfather — a Jew.
— Here is the news. This is getting very complicated. You know that I'm a Nazi?
On the Ukrainian front Sillt found that there are a lot of nice Jews. When the right extremist battalion "Azov" was included in the Ukrainian army, he found there also and Arab soldiers.
"Suddenly, I'm surrounded by color. I could no longer communicate only with the Nazis. When I saw that they work just as well as I do, if not better, was forced to ask myself: "This is an exception or there are many more such as these?" They were bold. They shared with me food and water, although they knew exactly what they do not like me. I've started to change".
VG: should they was to start much earlier?
"Perhaps. I think all people are trying to adapt to the environment in which they reside. We select those pieces of reality that best suited us. I thought, for example: "Adolf Hitler built good highways, but about what he did to the Jews, I would prefer not to talk loud." There are things that we close our eyes, and there are things that capture us. I don't think this is something special."
In several interviews he talked about his new view of Jews and Muslims. So now on various forums and sites of the nationalists can be read the line about the "traitor Michaela" and "lover of Jews Michaela".
"The threat to my safety so serious that I have here, in Ukraine, there is a permit to carry weapons".
Because of the danger of being recognized, he didn't want his picture posted along with this material.
Currently, he works as a security adviser for one of the Ukrainian firm. Every day lacks of the war.
"I love what happens to people in war. All that is Michael, flies away like chaff, I'm becoming a robot. The closer we go to war, the less human. On the field of battle is 100%. Vision escalates".
— Can you tell me what it means — to deprive of human life?
— This is a very personal question. This topic is messy, personal.
— How many people have you killed?
— Expressen wrote: 20 people. I did not dispute this figure.
Some believe that Sillt exaggerates the number of killed and the distance at which he was killed. They say that Sillt too loves attention.
In the article "Michael Sillt: facts, fiction and fraud", published controversial portal The Truth Speaker, anonymous sources claim that while Chillt said that was in the cities at the front line, in fact he was in a completely different place.
There are hints that Sillt still sympathetic to neo-Nazis. He told us that among friends he has a lot of nationalists and right-wing extremists.
"I have friends from different backgrounds and classes of society. If you know someone 20 years, the friendship becomes primary, and the ideology is secondary. I believe that my current identity is much closer to a social Democrat-fifties than national-socialist or right extremist".
— How can we trust you?
"You can't. You gave me a couple of hours and can not know, it is a lie that I told. It is possible that you do psychopath or a liar. But I usually say, history will judge all. If I lied the last two years, history will condemn me."
The Swedish writer Lars, Ullenhall (Lars Gyllenhaal) interviewed a number of foreign legionaries for the book "Swedes at war 1945-2015 years."
VG: what do you think, is it true that he killed 20 people?
Ullenhall: it is Possible that Sillt killed people, like the rest of the Swedes who went there.
The restaurant Sillt puts cell phone in pocket. The apartment on the other side of the street waiting for his wife and a new life. He wears a jacket and some time is silence.
"I came home from the war nine months ago, but every day I want to tell my wife: "Go to hell. I'm leaving"".
Smiles.
"If someone from the "real" will call today and say: "We go to Moscow to fight…"Then it doesn't matter what you tell the wife or child, we are looking for. I love her. But, all good!".
Comments
comments