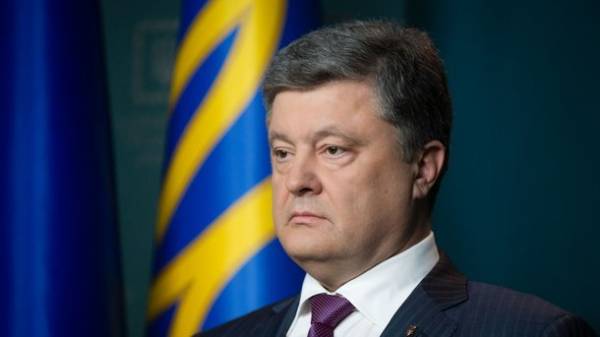 The President of Ukraine Petro Poroshenko condemned the attack in the centre of Barcelona, noting that the world should not be place for hatred and violence.
"I strongly condemn the barbaric terrorist attack in Barcelona. Our thoughts are with all victims", – he wrote on his page on Twitter on Thursday evening.
Rsace sasugay varvarski teroristicki act Barcelon. Nashi pillows z USA of postradali.
— Petro Poroshenko (@Poroshenko) August 17, 2017
The leader of Ukraine stressed that the world should not be place for hatred and violence.
In our have not got bootie msca for nenavist the force.
— Petro Poroshenko (@Poroshenko) August 17, 2017
At the moment, information about victims in the attack Ukrainians there.
Earlier, the Ministry of foreign Affairs of Ukraine expressed its condemnation of the terrorist act at the center of the Spanish city of Barcelona. "Strongly condemn terrorist act in the center of Barcelona. Our thoughts are with the relatives of the victims SpainMFA", – wrote on Thursday night, the speaker of the Ukrainian foreign Ministry Marian Betz in his account Twitter.
In addition, the foreign Ministry noted that precise information about the presence of Ukrainians among victims of the terrorist attack in Barcelona. "The Consul in Barcelona, in collaboration with the police checks the information, whether among the victims of Ukrainians +34629382936," says the message of the MFA of Ukraine on Twitter.
We will remind, on August 17, a van knocked down a few dozen pedestrians on the street Rambla in Central Barcelona. Officially confirmed the death of one victim – they were a resident of Barcelona. According to the latest data, 15 people are seriously injured, 25 people moderately injured in the attack, 42 people injured easily.
Currently, the police of Catalonia confirmed the information on detention of two alleged criminals.
According to local newspaper La Vanguardia, another of the alleged terrorists was killed in a shootout with police. At the moment the official confirmation of the information yet.
SEE ALSO
A terrorist attack in Barcelona: photo, video, and all the details
According to the newspaper, the shooting happened in the Barcelona suburb of Sant just-Desvern. El Mundo writes that the man was shot, who previously broke through a police cordon in the city centre. Newspaper El Pais reports that at the break of the cordon was slightly wounded a policeman.
The police confirmed that two police officers were done hitting in the suburbs of Barcelona. At the same time the connection with the attack in the city centre has not been confirmed.
Responsibility for the attack in Barcelona claimed "Islamic state", reported the SITE Intel Group.
Comments
comments