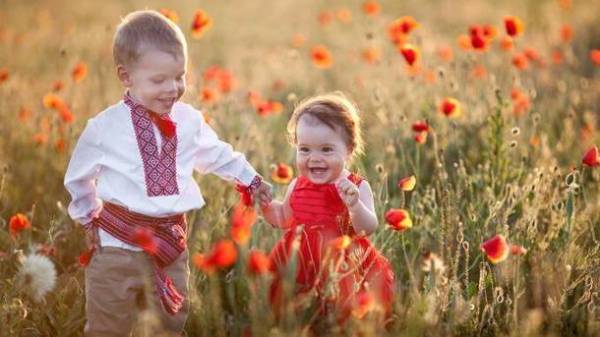 Every third Thursday of may in Ukraine is celebrated the Day of embroidery. This year the holiday fell on may 18.
Many Ukrainians, small and large, came today in kindergartens, schools and their work in national costumes.
People from all over the country and even from overseas posted a selfie in embroidery.
Happy embroidery! This is the most beautiful holiday #embroidery #denysivna #I
My rosy cheeks) so happy ran into the garden)) the love of the country is formed from birth ! Without violence#embroidery#denysivna#
Today this photo is not as important -the Day of embroidery . Thank you @iriskadesigner for my beauty !!! #embroidery
#Embroidery#
#ksyunya #Kirill #mouse #Gallipoli #embroidery happy embroidery
S day vishivanki! #zeo_ukrainians
And vie today at visitants? #tradition #Zanamivir #embroideredshirt #vishivanka #girls #smile #sunnyday #springhascome
Day shirts #lumines #kids #maraboto #embroidery
With holiday shirts, Ukraine ! Today you embroidered? #Ukraine #embroidery #holiday #vishivanka #Holy #Ukraine #ua #ukraine #Kamenetskii #kamenetspodolsk #kamenetspodolskiy #Kamenec #moonalice #dressy #morning #school #Sadik #spring #mood #myfamily #goodday #visualcommunication
And VI vzhe chotovelli on tomorrow Ulublena vishivanka??? #deliverance #Ukraine #ukraine_art #ukrainestyle #Kiev #kyiv #ukraine #Ukrainskiye #ukrainegram #київ2017 #ukraine_recommends #vishivanka #denisivka #Kiev #Ukrainian #Ukrainians #sludyanskie #serbinovka #folk #folkukraine #folkmusic #kiev
Tomorrow, 18 may, in Ukraine svetkavitsa Day vishivanki. Yak wrote, I tradicio trich on year odagiu their vishivanka: for Christmas, for Easter the first Day of vishivanki. • Sama himself, Oskolki for momi plans I iz zavtrashnego day povertys to life pose mezhami mo apartment, I nostimo vishivanka. Bo TSE my tradition, Bo TSE, my roots, my history I my sutty. We duzhe Garni national clothing. Vishivanka – TSE Garneau • Hto has dagne tomorrow vishivanka? Stnovitsya)) • #novokalynove #deliverance #vishivanka #Ukraine #ukrainskikh #Kyiv
#vishivanka
Z Mineralni Day of Vishivanki my Ukraino! #Ukraine #Vishivanka #Ukraine #Vyshyvanka
S Day Vishivanki #vishivanka #Lviv
18 may – the Day of vishivanki #deliverance #vishivanka #Odessa
After #vishivanka TSE tviy geneticly code ! NAS svatku #deliverance #Chernivtsi #chernivtsi #chernivtsigram #chernivtsi_cv #chernivtsi_city #Traven #chernivtsi_insta
Comments
comments