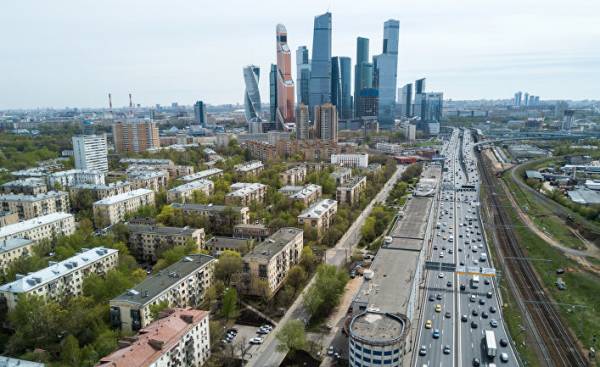 The government in Moscow wants to resettle one million people and demolish their homes. A protected and protest. So previously apolitical citizens turn to government critics.
At the end of last year, Natalia Nikolaeva moved into their new home. Six months she inspected the apartment in Moscow, until I found what fit perfectly. One-bedroom apartment that 36-year-old woman acquired with the help of their parents, is in the area of Kolomenskoye. A 15-minute walk is a Park with the former Royal residence and the river. There is easy access to the city centre. Between the five-story brick homes and large green yards, you can hear the chirping of birds, which is rare in Moscow. Before buying, Natalia was talking to future neighbors about the condition of the house. "This house will last another hundred years," they said. The agreement was signed, the money was transferred. It seemed perfect to me.
But a few months later, Natalia said that the municipal government of Moscow wants to demolish her house along with thousands of other residential buildings. Now she intends to defend. Last Sunday, the marketing specialist for the first time in my life went to the demonstration. "Until now I stayed away from political life," she says, " But now we are talking about private property, which they want to take. The issue is very serious."
About 20 thousand people gathered Sunday on Sakharov Avenue in Central Moscow in protest against the demolition of their homes. A program of the mayor Sergei Sobyanin, is quite ambitious. He wants to resettle about one million people in the Russian capital. About 4.5 million homes 1950-ies and 1960-ies should be carried, instead, the owners will get new housing. But still nobody knows exactly where are these new apartments and how they look.
"Renovation" — a controversial program of urban management in Moscow. It applies primarily to four – and five-storey buildings such as the house of Natalia Nikolaeva. Such houses in Russia is called "Khrushchev" in honor of General Secretary of the CPSU Nikita Khrushchev. In the 1950s, he initiated a large-scale construction project. Across the Soviet Union had to be built residential buildings at a minimum cost, the Soviet government wanted to provide private apartments millions of families.
For the first time a private space for millions of families
The plan came to life. Houses and apartments everywhere looked the same, whether Kaliningrad, Moscow or Vladivostok. Box with four or five floors, no Elevator. These apartments has a small bathroom and a small kitchen was very modest, but at the time, for many families they have become a real luxury. Previously, people lived mostly in communal apartments where each family had only one room, and the bathroom and kitchen had to share with several families.
The construction of "Khrushchev" was also associated with important social processes in the Soviet Union. On the one hand, it was a big wave of urbanization: millions of people moved from the countryside to the city to start work on the factories. On the other hand, people for the first time received their own space. Although the USSR was not private property, but in the kitchens of their houses, Soviet citizens could isolate themselves from the omnipresent state. In their kitchens — in the sacred place of the Russian apartments — they could complain about life and party officials, telling jokes about Nikita Khrushchev or to read prohibited books, which were distributed with the help of homemade copies. Compared with the period of mass repression and absolute totalitarianism of Joseph Stalin, people began to breathe easier.
However, do not nostalgia has forced Muscovites to take to the streets. They are outraged because they feel that their rights are violated. After the collapse of the Soviet Union most Russians privatized their apartments, thus becoming the owners thereof. They believe that no one else can decide for them what will happen to their property. So on Sunday, many protesters brought along a copy of the Constitution or placards on which were written excerpts from the Constitution guaranteeing the right to property.
The inhabitants of some slated for demolition have until June 15 to vote "for" or "against" the move. At first glance it looks like a democratic process. But there are problems: first, the votes of all owners who abstain will count as votes in favor of demolition. Second, the legal details of resettlement must be established in law, who was not even completely adopted by the Russian Parliament.
"You want your house demolished?"
"We don't understand exactly what we offer," explains Pauline Melman. 27-year-old advertising specialist lives with her husband and two year old son in a one bedroom apartment in the area Sviblovo in the North-East of the city. "We do not ask: "do You want to move into the apartment of so many square metres on a certain street?" We simply ask: "do You want your house demolished?"" The young couple soon plans to have a second child, and 45 square metres is already crowded. Pauline was going to sell his apartment and buy a new, more. "But I want to decide where I live." When it became known that their "Khrushchev" can carry the value of the apartment Pauline was estimated to be decreased by 16 thousand euros. Now it makes no sense to sell it.
At the entrance to the house has an information Board city management. The city ensures that new apartments, which the owners will get in return will not be less than their previous living space. Area even more. In addition, the relocation will take place within the same district. However, the districts are quite large.
Information Board invites residents to take part in the vote. Neighbors Hope and Sergey, both retired, are standing nearby and talking. Sergey opposed. "I grew up here, born here, my daughter, I'm not moving," he says. Hope is still not decided how to vote. In fact, it is against the demolition. But, as is typical for Russia in her three-room apartment of 70 square meters, three generations: Hope and her husband and daughter with her husband and grandson. The younger generation wants to move in the hope that the new apartment will probably be better and a little more.
"I can understand your daughter — says Hope. — Our house is old, the water pipes are rotten. But it is not necessary to demolish the whole house. You can just overhaul". On TV she had seen pictures of the new prefabricated houses, in which they can move. Actually, they looked good. But are at home in reality, she doesn't know. This is not in the law nor in the regulation.
Many Muscovites suspected corruption
Similar differences exist in many families. "Every day I have a discussion with the parents," says 22-year-old Anna. On Sunday she also went to the demonstration against the demolition. Her parents are watching TV and advocate for the relocation, she is looking for information on the Internet and will vote against him. "Actually, we have been waiting for the move, says Anna. But all this is not transparent." The young engineer is afraid that the new apartments may be in even worse shape — in the end, she works in construction company.
"Every day I see, as in the construction of save on everything she says. Who relocates to an apartment, have to repair it, and often install new Windows".
In fact a lot of people want to move. However, there are those who believe that "renovation" does not serve their interests, and the interests of the city Council and construction companies in Moscow traditionally is closely linked to the government. Instead of five-storey buildings with large green yard built many new multi-storey prefabricated houses. Construction companies, which suffered greatly because of the crisis in recent years, will benefit from orders. Citizens full of distrust and suspect corruption. And therefore their protest against demolition becomes a protest against tyranny and nepotism.
Sunday at the rally they demanded the resignation of mayor Sobyanin. Shouted: "the mayor must go." And in a few minutes: "Putin must go". Its building program, the Moscow authorities were able to politicize tens of thousands of mostly apolitical people. They team up with neighbors, learn their rights and take to the streets to protect them. A year before the presidential elections, this awakening of civil society in the capital is unlikely to please the Russian authorities.
Comments
comments