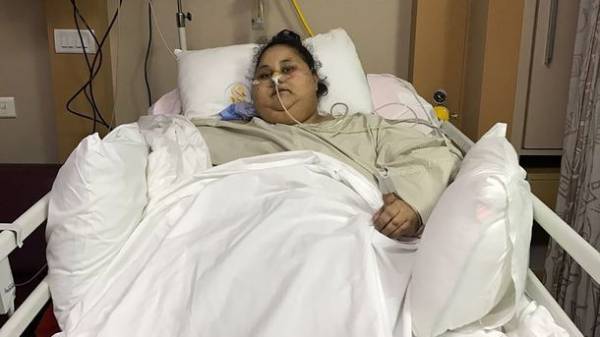 The fattest woman on the planet – an Egyptian Iman Ahmed Abdulati – could lose up to 358 pounds.
The tragic story of Egyptian women announced in October, the TV channel Al Arabiya. Doctors describe her condition as "elephant disease" and "defect glands".
In addition, a woman suffered a stroke.
Within five weeks, the Iman was treated at the clinic "Saifi" in Mumbai. Here she was taken in February on a special flight of cargo aircraft. The doctors did her surgery for laparoscopic sleeve gastrectomy, reports TASS.
See also: Surgeons have reduced the stomach of the heaviest woman in the world
Thus, the size of her stomach was reduced to 15% of its original size. In addition, doctors have removed part of the fat.
As reported RIA Novosti, now 36-year-old woman is on a special diet. Every two hours to feed her through a tube maosoleum protein shake prepared with soy milk. Feeding tubes are necessary, as after a stroke Iman bedridden and it is difficult to swallow. On the day of Iman consumes about 1800 calories.
During the preparation for surgery and after it the woman managed to lose 140 pounds. Doctors hope that by the end of the year it can lose up to 300 pounds.
Comments
comments