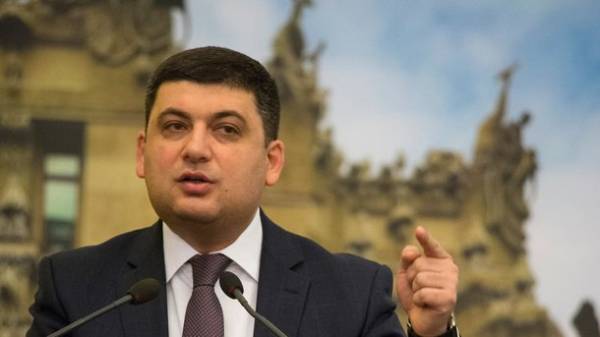 The Cabinet of Ministers of Ukraine and the international monetary Fund (IMF) agreed on a version of Pension reform without raising the retirement age. This was during the presentation of the reforms in the Cabinet of Ministers of Ukraine Prime Minister Volodymyr Groysman.
"One of the main requirements [IMF for pension reform] was to increase the retirement age. Our task was to avoid raising the retirement age – and we the job completed. The retirement age remains at 60 years for people who have an insurance period of 25 years", – said Groisman.
Thus, if a person less than 15 years of experience, the retirement age was 65 years. "But for the majority of Ukrainian citizens – over 70% – and this will equal to 60 years", – said Groisman.
In addition, according to the head of the Cabinet, people with lack of experience will have the opportunity to make contributions to the Pension Fund to receive a full pension.
"There are times when you have 24 years of insurance experience, but you turned 60 years – what to do? You can, in accordance with current law, to compensate for the cost of one, two, three, four, five years, not to take money from someone who faithfully paid their contributions. This is also social justice. That is, unless you have several years of experience by age 60, you can be compensated for by contributions to the Pension Fund", – said Groisman.
However, as informed the Prime Minister, for certain categories of Ukrainians will cancel the special conditions of retirement.
"We are canceling the right to pensions for seniority for some categories of workers, which today suffered only from the fact that they had a minimum wage. It was easier to retire on superannuation, because there was no particular difference," – said Groisman.
At the same time, these rules will not apply to miners and Steelworkers.
"There are complex work – Steelworkers and miners. We have signed agreements with the Federation of employers and Federation of trade unions of Ukraine that in heavy occupations on the list 1 and list 2 will be implemented by the relevant fee by the employer – 15% and 7% to the Pension Fund. That is, people from list 1 and 2 will be able to early retire. Even a few we will expand these lists, provided for payment of interest. From 1 January 2019 for the miners we actually enter the second level of accumulative system. For young miners to 35 years will open a separate personal account in the Pension Fund, which will total his pension contributions, where he will receive a pension", – said Groisman.
As reported, the Prime Minister said that the majority of Ukrainian pensioners are now forced to live below the poverty line. At the same time, the Pension Fund deficit has grown to 140 billion UAH.
We will remind, yesterday, on may 16, arrived in Ukraine mission of the International monetary Fund (IMF) to finalize the draft law on Pension reform in Ukraine.
Comments
comments