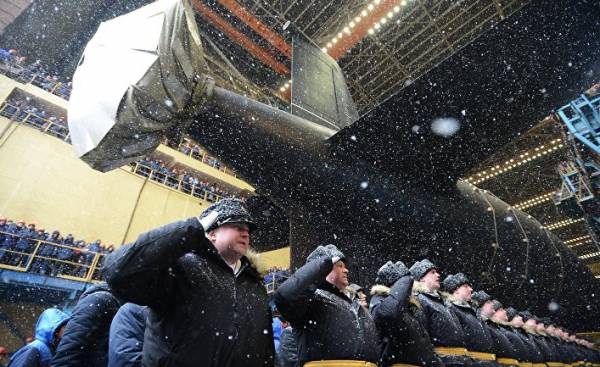 Russia launched its first advanced submarine project 885M "Ash". Derived from the shop of the shipbuilding plant "Sevmash" in Severodvinsk submarine is called "Kazan". With the adoption of it in the fleet it will be the most powerful enemy submarine which has ever faced the U.S. Navy.
"Perhaps it is the combat-ready nuclear submarine, adopting a potential enemy," — said in this month's edition of the National Interest specialist in Russian military Affairs Michael Coffman (Michael Kofman), worked at the Center for naval analysis (Center for Naval Analyses).
"Kazan" has many significant improvements compared to its older sister boat "Severodvinsk". It introduced new technical developments that appeared after the start of construction of "Severodvinsk", including a streamlined hull shape, and upgraded electronic warfare systems and automation. During the construction of "Kazan" is also considered the disadvantages of the older ships of this class.
"Actually, 885M is the first boat of the new type, — said Kofman. — The project was significantly enhanced on the basis of long experience in the design, construction and testing of the original project 885".
The submarines of project 885 are significant differences from the previous designs of the Soviet and Russian submarines. Unlike Soviet designs, submarines of project 885 are multipurpose, and in concept similar to the American type submarine "Seawolf" and "Virginia."
""Severodvinsk" is the first genuinely multi-purpose submarine — written by Michael Kaufman and Norman Polmar (Norman Polmar) in the journal of the naval Institute United States Proceedings. — "Severodvinsk" can lead the fight against submarines, surface ships, and strike at ground targets. Among the most interesting features of sonar system "Irtysh-amphora" with an overall spherical antenna in the bow and eight vertical missile silos in the middle of the ship for launch 32 missiles "Caliber" and "Onyx". This is the weapon for hitting surface and land targets acquired special importance after the Russian surface ships and submarines in 2016, fired rockets on targets in Syria."
Only Russia plans to build seven submarines of project 885M. Among them — "Novosibirsk", "Krasnoyarsk", "Arkhangelsk" and "Perm", which are currently in the construction phase at the shipyard "Sevmash".
Meanwhile, Russia is planning to develop a new class of attack submarine boat that will lead the hunt for American submarines with ballistic missiles on Board. "The main task of shock submarines will be countering Western nuclear missile submarines. Probably, this is a significant program, but currently is known about it very little, except the fact that the beginning of construction is planned for the near future," the authors write in their article.
There is no doubt that the Russians possess the technical skills necessary to create such a powerful shock boats of a new type. The question is whether there is enough to the Kremlin of money for such a costly military project.
Dave Majumdar is editor of the National Interest, covering military issues.
Comments
comments