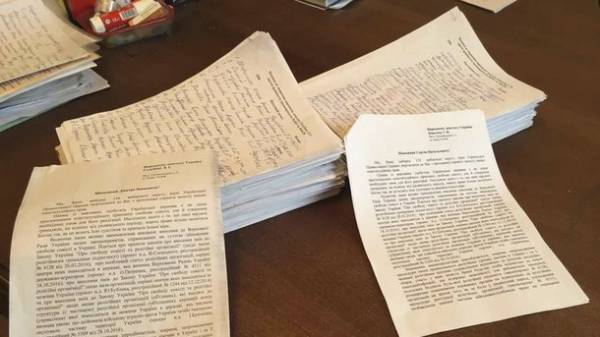 Orthodox believers all over Ukraine protested against the adoption of the anti-Catholic laws No. 4128 and No. 4511 Verkhovna Rada of Ukraine. Reported Information-enlightenment Department of the UOC, with reference to the press service of the dioceses.
In the UOC believe that the bills are contrary to the Constitution and international law in guaranteeing freedom of religion. The vote is scheduled for may 18, 2017. To the people's deputies appealed to the bishops of the Ukrainian Orthodox Church and believers from all over Ukraine.
More than 52 thousand of the faithful Region in just one day signed an appeal to people's deputies of Ukraine from the region that they did not vote in Parliament for anti-Catholic laws.
The collection of signatures with the blessing of Metropolitan of Odessa and Izmail Agafangel began on may 14 and will be extended until the evening of 15 may, after which all the collected signatures will be transferred to Kyiv deputies of Ukraine.
To the faithful of the diocese of Zaporizhzhya with a call to collect signatures against the bills, and make these days the feat of fasting and prayer asked the Metropolitan of Zaporizhia and Melitopol Luka. The Archbishop stressed that such actions as lobbying of the anti-Catholic bills, "some "public servants" are trying to involve not only our Church, but our Homeland Ukraine into the abyss of sectarian war."
Also, turning to the congregation, managing the Kirovohrad diocese of the Archbishop of Kirovograd and Novomirgorod Joasaph noted that the adoption of these bills runs counter to the fundamental principles of religious freedom guaranteed by the Constitution of Ukraine and international normative acts adopted by it.
During his Sunday sermon the Bishop Voznesensky and may day Alexy addressed the faithful with these words: "Today we collect signatures against anti-clerical laws who want to take in the Verkhovna Rada of Ukraine. Our elected representatives, who have betrayed God and his people, want to enact laws according to which everything should belong to the state, so that the authorities will put to the chair of bishops, of priests in the temples." In this regard, His Eminence blessed until may 18 to collect signatures under the appeal to the deputies of Ukraine and to be committed daily prayer rule and to impose the post.
Recall that according to the draft law No. 4128 of any stranger may consider himself a member of a given parish to vote for its transition to another jurisdiction. According to this scheme there have been dozens of seizures of the Ukrainian Orthodox churches. As noted in his report of his Beatitude Metropolitan Onufry on the Council of bishops of the UOC 29 Jan 2016, during the so-called voting General meetings for the subordination of the parishes "is a substitution of concepts, and territorial community identify with the religious community."
Comments
comments