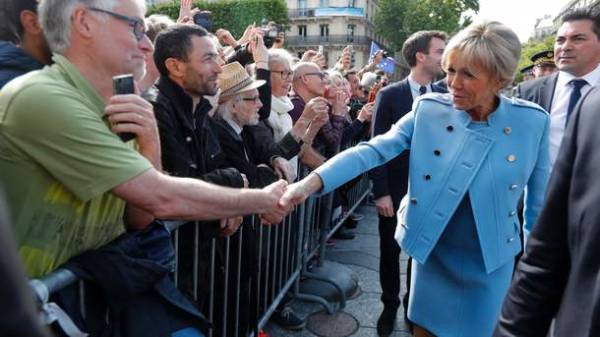 Brigitte macron, the wife of the new President of France Emmanuel Makron, have chosen to participate in the inauguration suit of the French fashion house Louis Vuitton. Reports UNN with reference to Reuters.
The first lady chose to dress bright blue hue composed of the dress, length above the knee and jacket in military style. The cost of the suit, the first lady is not specified, but indicated that the President himself was dressed as a cost of 450 euros, which is quite modest price for a business suit chosen for events of this level.
In turn, the Ukrainian diplomat's wife Novel Immortal Tatiana Mokridi stressed that the first lady of France was struck by the fact that handbag and shoes of the same color.
According to her, most of the fashion experts yesterday called it a foolish taste, and said that the wearing of "tonal" adds years.
"Now they will have something to talk about. Good luck to Him and France!" – summed up the Ukrainian spouse of a diplomat.
Recall, the macron has officially entered a post of the President of France.
As reported on Monday the French President will name a Prime Minister and a new government will be announced on Tuesday, may 16.
Comments
comments