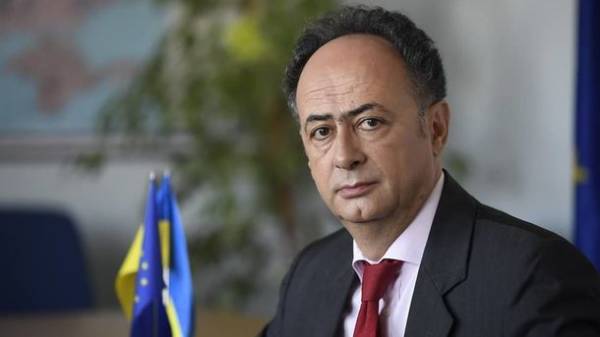 The European Union will support Ukraine financially and politically, as well as to support reforms towards European integration of Ukraine, said the head of the EU delegation in Ukraine Hugues Mingarelli.
"Ukraine has made a choice in favor of European integration. And I want to assure you that Ukraine will not move itself in this way. We will help politically, financially and to give them the best advice on how to cope with the implementation of reforms in Ukraine… the EU stands with Ukraine whilst your country stand huge challenges in the security sphere and in social and economic spheres," Mingarelli said during a welcome speech at the opening of the Europe Day at St. Sophia square on Sunday in Kiev.
The diplomat also recalled that after a few weeks of visa-free regime between Ukraine and the European Union will come into force.
"Today, we celebrate this day in special conditions, since in a few weeks all citizens with biometric passports can travel to countries members of the EU and stay there for 90 days without any visa requirement. This is an incredibly important achievement, which attests to the pace and scope of ongoing reforms," the Ambassador added.
He also noted that he admires the determination of Ukrainians to resist the external threat. "What is happening today in Ukraine, in fact it concerns the whole of Europe, we really admire the Ukrainians, their determination to be stronger in the face of external threats, take fate into their own hands and build a better country and a better future," said Mingarelli.
Earlier the President of Ukraine Petro Poroshenko said that the Ukrainians have chosen the European path, and forever away from the Soviet and Russian empires.
Comments
comments