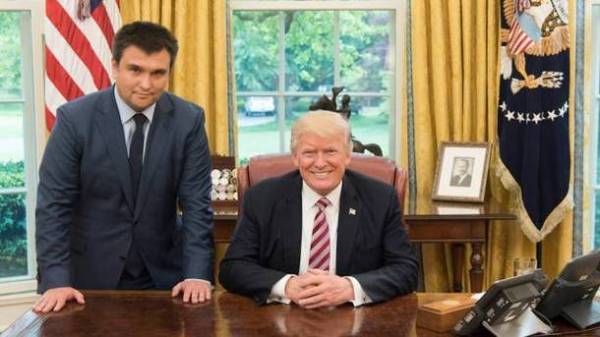 Former U.S. Secretary of state Henry Kissinger, who has the access to the Oval office Donald trump is extremely Pro-Ukrainian position. This was at the briefing said the foreign Minister of Ukraine Pavlo Klimkin, commenting on the presence of Kissinger at trump meeting with Russian foreign Minister Sergei Lavrov.
"Kissinger attended only one meeting of the Munich conference (the meeting held in Washington. – Ed.) I also took part. I will not open a secret if I say that this was a session dedicated to Ukraine and Russia's actions in our region. I have had several conversations with Kissinger about what his vision is. He, and this is very important, I cannot open all details, the key message is Ukraine should become part of the European space. This is a very important point that everyone should understand", – said the Minister.
According to Pavlo Klimkin, with Kissinger policy to communicate all over the world. The Minister of foreign Affairs of Ukraine assures that the position of Kissinger's exclusively Pro-Ukrainian. Recall that Kissinger is the author of a controversial plan for resolving the conflict in Ukraine and Russia. He urged Russia to fulfill the Minsk agreements, in exchange, States can close its eyes to the annexation of Crimea.
On the question of journalists, what was the reaction of the White house in Pavlo Klimkin and Ukrainian foreign Ministry issued after a meeting with trump, the Minister said: "I do Not know, do not ask. You know, in the oval office was, including the official White house photographer, who also took these photos. So I really hope that these photos have clearly positive connotations".
The foreign Minister noted that trump stressed the importance of progress in the implementation of the Minsk agreements. The parties also touched upon security assistance to Ukraine. Additional contacts at the level of the Ministry of defense will continue.
Asked by reporters about rumors that the Ukrainian side for the meeting with Donald trump paid $400 thousand, Pavlo Klimkin said that, by definition, does not use any lobbyists to organize some meetings. "It was a very informative meeting, which the President trump right to begin with, what is the situation in Ukraine. The meeting dealt mainly with what is happening in the Donbas. By definition, lobbying in politics, and at this level does not work. I never use paid services of those who are helping us. And we are helping our own drive and fight," – said the Minister.
Earlier it was reported that Klimkin during his visit to Washington and meetings with US President Donald trump and Vice-President Mike Pence discussed with the American side , the opportunity of bringing the United States to resolve the situation in the Donbass, including in the Normandy format.
Deprived of Ukrainian citizenship Verkhovna Rada Deputy Andriy Artemenko said that Kiev had paid $400 million for Klimkin's meeting with trump.
Comments
comments