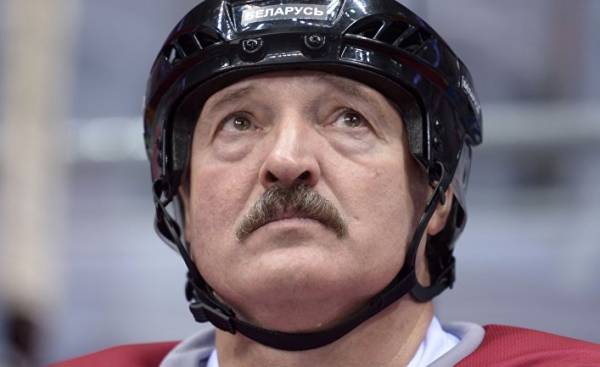 "The situation in hockey is so inadequate that after the world Cup (we have already agreed with the coaches, athletes) will gather and we will think what to do," — said Alexander Lukashenko on 9 may after the ceremony of laying wreaths at the Victory square in Minsk.
"In hockey — fail in football fail in the biathlon, where we were always on top, failure. Allow this to happen we can't. No one can say that we have someone underpaid or neprofesional. Probably just snickering in some sports. So you'll adjust," BelTA quotes the words of the official leader.
"We understand that playing with favorites, but they are not SuperVeloce. How could you miss with "nickle" the third goal from the Finns? Lack of discipline, rolling on the individual game, which not owns none of our hockey player. Hockey can't play. No, they are still in the area near the gate twist the puck, lose and get goals. And they with the Canadians played? It is generally a shame (0:6 — approx. ed.). It would be better not to go. What came out, if legs are trembling, I couldn't run, throw at the goal can not" — said the Belarusian leader.
"Look, I played the French, just great: they dare the Finns, — noted Lukashenko. — Let's see what will happen next. Concluded, start the game, will accept it. No means, we tolerate it we will not."
"Why am I so overreacting? Not because an athlete and doing sports all my life. But because the sport is the greatest ideology. If the Russians beat the Germans in the eve of May 9, it has some political Association. The Russians cheered the spirit. And we have gifts presented to our leaders? Watched by millions of people survive, and they have this attitude," said the official leader.
Lukashenko confirmed that Belarus and Latvia will fight for the world championship on hockey in 2021: "the Opponents we have a decent — Finland. But the question is not whether we win or don't win. Can't have everything. We fought, I lost, and then got the world Cup [in 2014]. Therefore, it is necessary to fight. Don't get in 2021 will get 2022 or 2023 We will definitely bring the world Cup of hockey in their country."
In 2015 the defeat at the world championship against Canada with a score of 0:9 Lukashenko called "a disgrace". The same word he used in 2013, commenting on the defeat of the national team for the Olympic games-2014 in Sochi.
Comments
comments