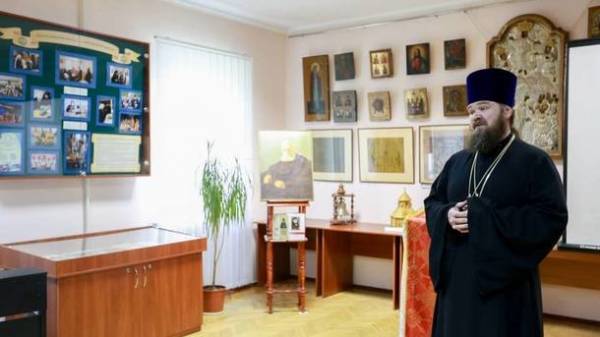 In the Kiev theological Academy and Seminary (Ktaas), the opening of the exhibition dedicated to the 140th anniversary of the birth of St. Luke (Voyno-Yasenetsky) and priests to our veterans.
According to the information Center of the Ukrainian Orthodox Church, among the exhibits – documents, photographs, medical instruments, letters of St. Luke, which tell about the life, the feat of confession, the medical activities of the Saint.
According to the head of the Synodal Department of the UOC "Church and culture" of the mother superior Seraphim (szewczyk), exhibits worthy of attention also because reflect the era in which the Saint lived.
"Things came to the exhibition in different ways. Sometimes unique items you can just buy at the market, when a person sells, not realizing the cultural value of things. One of the exhibits perfectly reflects the era in which he lived by St. Luke. It is unusual as the life of this man is the Confessor and at the same time laureate of the Stalin prize, surgeon of the highest level and of the Bishop of the Orthodox Church.
This sermon personally signed by the Prelate "the Bishop of the Crimean Luca, winner of the Stalin prize"," – said the mother superior.
First Vice-rector of ktha & s Archpriest Sergei Yuschik, telling about the life of St. Luke, brought an interesting fact – the Bishop operated in a cassock.
"During the fighting, the Prelate wrote a work in purulent surgery. The exposition contains written small images it greeting card-congratulations with the Victory Day, sermons, a certified author's signature," noted father Sergius.
He also spoke about the exhibits, which tell about the exploits of the clergy veterans.
"The exhibition is dedicated to those who fought for our lives, for our souls. In particular, the first rector of the revived the Kyiv theological schools (1989 – 1991) Archpriest Petro Vlodek, who finished the war in Berlin. It is on the front, he finally decided that I would choose the priestly Ministry. The exhibition presents his cassock with military awards," – said Archpriest Sergei Yuschik.
According to him, among the exhibits is an unusual and historically important things.
"For example, aluminum tape, which is stamped homemade crosses, found on Lyutezhsky bridgehead during the excavation of mass graves of soldiers," – said the first rector.
At the opening ceremony was attended by world war II veterans who shared memories of the war.
The exhibition "the Great Wonderworker and Confessor" is held in the Church and archaeological Museum (St. Lavra 15, housing 63) and runs until 3 June. Visit the exhibition on weekdays from 15.00 to 17.00 and admission is free.
Comments
comments