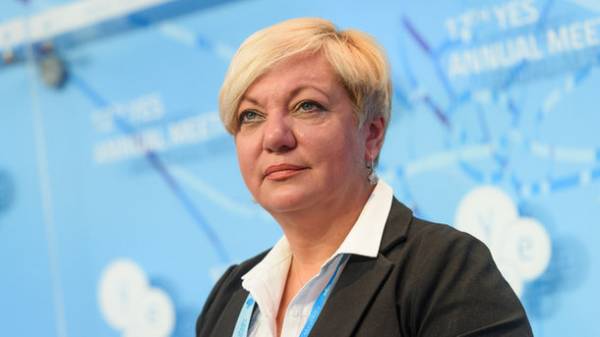 Chairman of the National Bank of Ukraine (NBU) Valeria Gontareva, who said on the last working day as head of the regulator, has asked his successor as soon as possible to begin to implement jointly with the Finance Ministry a new strategy for state banks.
"This is clearly a priority for this 2017. Clear development strategy of the state banks, healthy competition and good corporate governance is the key to the success of the banking sector of our country for years to come. Do not forget about the non-Bank sector, which should "go under the wing" of the National Bank and also requires significant reforms. Before the new head of the National Bank are huge problems," – Gontareva wrote in a column for the "New time".
According to Gontareva, the head of the NBU should take a "professional unbiased banker-technocrat".
"This person should understand how a Bank works, why there are concepts of capital, liquidity, Basel why write all these prudential rules for the banking sector", – said Gontareva.
Recall that today, may 10, Gontareva appointed acting head of the NBU of his first Deputy, Yakov Smoliy. To work in a new capacity resin will begin on may 11.
In early April, the NBU announced its intention to withdraw and asked the President of Ukraine Petro Poroshenko, which takes the decision to fire her until may 10.
However, to date, information on the existence of the presidential submission of the resignation of Gontareva no, and the head of the NBU after the may holidays goes a long vacation.
A definite answer to the question of who will succeed Gontareva, yet, but experts are inclined that it will be the Chairman of the Board of Raiffeisen Bank Aval Vladimir Lavrenchuk. He Lavrenchuk has said is ready to become the next head of the National Bank of Ukraine.
Comments
comments