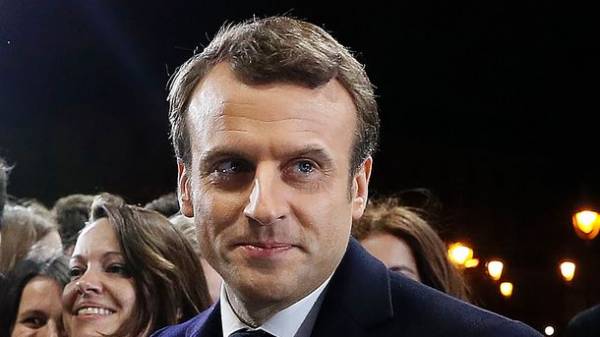 According to preliminary data of centrist Emmanuel macron with a significant margin to win the presidential elections in France. 15 minutes after the announcement of preliminary election results, he called marine Le Pen to recognize the loss. She stated that as a patriot his country wishes Him success in overcoming the challenges he will have to face, the TV channel "112 Ukraine".
After Makron received congratulations from world leaders.
With the victory in the second round of presidential elections he was congratulated by US President Donald trump.
Congratulations to Emmanuel macron, with its huge victory in the elections of the President of France. I look forward to working with him – wrote trump on Twitter.
Petro Poroshenko expressed special thanks to the Emmanuel Macron, for his "uncompromising personal support for Ukraine in the face of continued Russian aggression." "Your position during the election campaign gives you the confidence that Your victory Ukraine gained as a reliable ally and in the Normandy format, and in its efforts to restore sovereignty and territorial integrity of Ukraine", – stated in the text of the message of the President.
Poroshenko also stressed that the choice of the French people is clear evidence of the victory program, the progressive Europe of freedom over the alternative Europe of nationalism. He assured the French leader that in this way Ukraine will always be a reliable partner of France.
Election campaign Makron, Petro Poroshenko called it "brilliant."
Congratulated with the victory of Macron and Prime Minister of Ukraine Volodymyr Groysman: "I Congratulate the Emmanuel Macron on his election as President of France. The people of France once again confirmed the dedication to the real values of democracy. I wish success to the newly elected President and hope that Ukraine will continue to have robust support from France," wrote the Prime Minister on the page in Facebook.
French President Francois Hollande congratulated Him on his election victory. "Tonight I called the Emmanuel Macron, to warmly congratulate him on his election as the President of the Republic. His victory confirms that the vast majority of our fellow citizens decided to rally around the values of our Republic, expressed support for the EU and for the opening of France to the whole world", – said the head of state. Hollande also wished Him successful work.
Foreign Minister of France Jean-Marc Ayrault wished success to the country and Europe in General. "Congratulations to the new President of the Emmanuel Macron. I wish success to France and Europe," he wrote on Twitter.
"France has chosen investment in the future. Ready to work with Emmanuel Macron and restart our Alliance. Long live France, long live Europe," – wrote in Twitter, the head of European diplomacy Federica Mogherini.
German Chancellor Angela Merkel congratulated Him on the victory and ameila what it means strengthening and unification of Europe and the Franco-German friendship.
Comments
comments