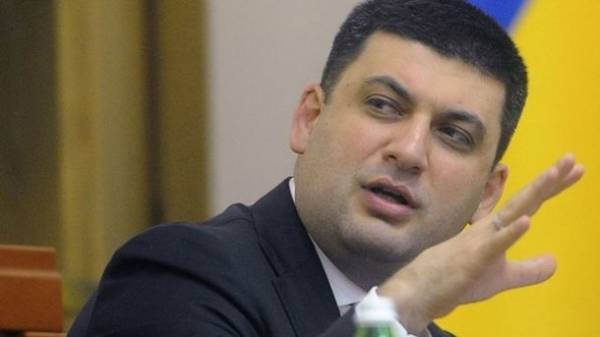 Prime Minister of Ukraine Volodymyr Groysman during a conference call reprimanded, first Deputy Governor of the Chernihiv regional state administration Leonid Sanevich and advised him to write the application on dismissal because the officer attentively listened to the head of the government. The incident occurred during the all-Ukrainian selector meeting on preparation for the new school year in the river, reports "UKRINFORM".
In particular, the first Groysman called on governors and mayors to take part in the August conference of teachers and promised to personally come to such a conference, and then moved on to training in the areas of national economy, formation of the business climate, the interaction of local authorities with entrepreneurs, etc.
During his speech, he suddenly asked to Chernigov and asked the representative of the Chernihiv regional state administration, who was the first Deputy Governor Leonid sakhnevich, asking to repeat what he said before.
In turn, sakhnevich noted that the Prime Minister just talked about the August conference.
"You did not listen, said the Prime Minister. The Prime Minister talked about the national economy. I think you need to make a decision and find yourself another job. Did you hear me? The head of the administration write a letter of resignation and look for another job, I'm not going to work", – was indignant Groisman and added: "I'm talking about the national economy, I'm talking about kindergarten children, are you sitting, are engaged in chatter".
SEE ALSO
"Do that again and I'll tell you I would drive you away": Groisman publicly reprimanded Zubko
After trying the Deputy head of Chernihiv regional state administration to apologize, the Prime Minister said: "will Apologize to his wife if, God forbid, do something wrong, your heart must be hurting, not to apologize to me."
We will remind, last year the Prime Minister of Ukraine Volodymyr Groysman during the conference call publicly reprimanded the mayor of Nikolaev Alexander Senkevich. The Prime Minister did not like that at the event the mayor kept up a correspondence on a mobile phone.
Comments
comments