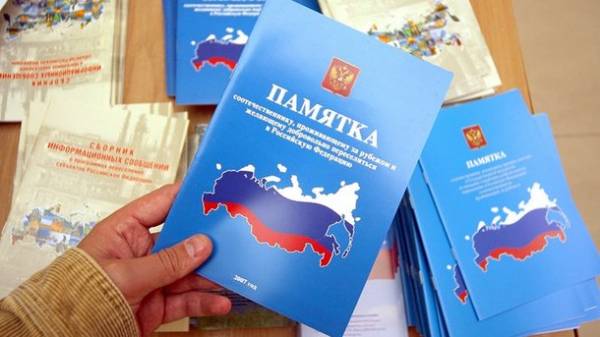 In Russia propose to introduce in 2019 the Russian equivalent of a green card. It will give highly qualified foreigners of Russian origin, who is fluent in Russian language, the right of entry to Russia and work in the country. Such plans are described in the draft programme "Digital economy", prepared by the Ministry of communications, for consideration in the state Duma a draft will be submitted in March 2017, say "news".
The program consists of a large number of partitions. In the section "involvement of foreign specialists and Russian specialists, who went abroad" says that by 2019, should be introduced into circulation a map of the Russian compatriot, providing foreign specialists of high qualification of Russian origin, who is fluent in Russian language, the right to enter and work in the territory of the Russian Federation.
This must be a elaborate system of qualification assessment working in Russia cardholders of employers and also developed a set of measures to support staying in Russia for specialists who receive high ratings.
Similar documents are issued in many countries, such as Poland. The project aims to promote culturally similar labour migrants in Poland. Card holders can get free long — term visa with the right for multiple crossing of Polish borders without any additional documents. They have the right legally to work or engage in entrepreneurial activity without a special permission, free access to all state museums, get free education in Poland on the same basis as the citizens of the country.
Comments
comments