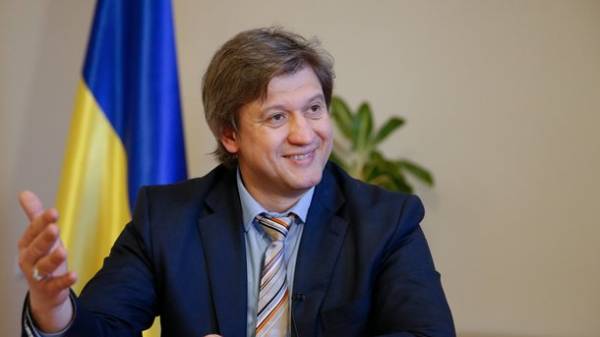 The United States remains committed to further financial support for Ukraine. This was announced by the head of the Ministry of Finance of Ukraine Alexander danyluk.
"The Ukrainian delegation, which I headed, took part in the annual spring meeting of the International monetary Fund (IMF) and world Bank (WB) in the United States (held 18-23 April. – Ed.). Washington also held important meetings with the new Administration of the President of the United States, including the key representative of the economic block of the administration – Minister of Commerce Wilbur Ross… I was assured that the financial support for Ukraine will continue, because our country is strategically important in the region", – said the Minister.
Danyluk also said that the meeting with Minister Ross discussed the issue of bringing Ukraine into the investment.
"In the past well-known financier of wall street is well aware of investment opportunities of Ukraine and realization of potential of our country. In the new administration are interested in developing bilateral economic relations and the increased presence of American business in Ukraine. Now working on a specific list of potential joint projects, as well as the removal of barriers to attract investment in the country", – said the head of the Ministry of Finance of Ukraine.
Danyluk also said that the US administration intention to reduce technical support all countries were part of campaign promises and, accordingly, the plans of U.S. President Donald trump.
"This decision is not a surprise and it is important to note that this decision concerns not only Ukraine but the whole international assistance, therefore, is not a reduction in the level of political support to Ukraine", – assured the head of the Ministry of Finance.
According to him, during the US visit, the Ukrainian delegation also held a series of meetings with investors regarding the upcoming entry into the foreign debt market.
"We plan to enter the capital markets this year, so it is important to communicate with investors… I met with potential investors in Washington, new York and Boston. They are all positive about our reforms, but expect the launch of land and pension reforms, in order to assure that Ukraine is serious to continue the structural changes and develop the economy", – said danyluk.
As is known, Ukraine in 2014-2016 annually placed on the market five-year Eurobonds under US guarantee a volume of 1 billion U.S. dollars each, the rate of sales in 2016 amounted to 1,471%.
On General market conditions, the country last placed Eurobonds in April 2013 was sold 10-year dollar-denominated Eurobonds on 1,25 billion USD with a yield of 7.5% per annum.
We will remind, danyluk said earlier that Ukraine could host the first Eurobonds this autumn.
Comments
comments