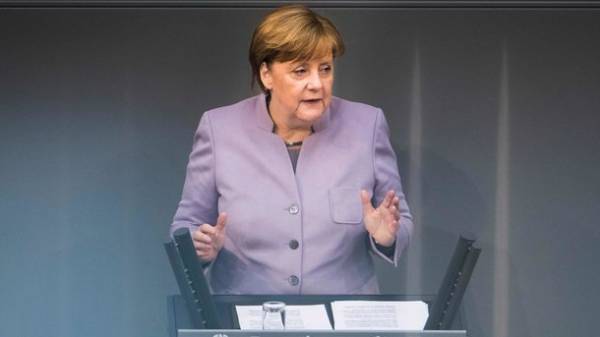 German Chancellor Angela Merkel can persuade Kiev to agree to any terms with the "Minsk process" to end the war in the Donbass, which will remove the sanctions against Russia. This opinion was expressed on air NewsOne political analyst on international Affairs Oleg Voloshin.
According to him, for Germany the Minsk process is an instrument to improve relations with Russia.
"Merkel at a press conference said that its goal is to achieve the moment implementation of the Minsk agreements when the European Union will lift the sanctions (with Russia – ed.). In principle, nothing new. However, there are accents that have a goal and what a tool… Merkel is a cautious politician, she can't mention. She specifically said that the Minsk process is an instrument to improve relations with Russia", – said Voloshin, commenting on the recent talks, Merkel and Putin in Sochi.
He believes that instead of Moscow, to the world of Kiev will be forced, as the Germans were interested in the abolition of sanctions against Russia.
"She says it before the election, that is what concerns the German farmers. They want to put Russia in its products, I want to earn on the Russian market. This means that Kiev will be forced to peace. In Europe want to end the war on any terms that they deem rational. And we have to accept and do what the West will say," – said the expert.
We will remind, yesterday, on may 2, in Sochi took place the meeting of Angela Merkel with Russian President Vladimir Putin.
Comments
comments