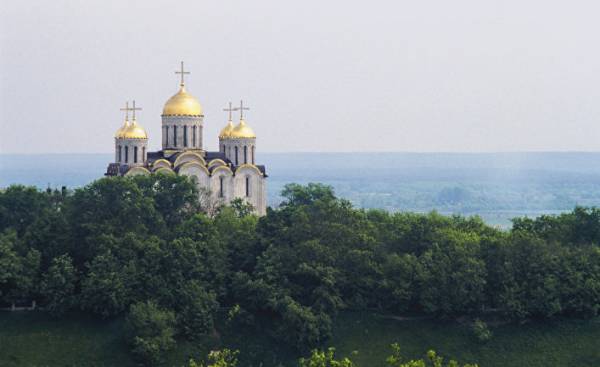 The event is organized by the classic: celebration room, lace curtains on the Windows, men in suits, women in dressy blouses. On the Desk a couple of pennants: black-red-yellow and white-blue-red. This kind of experiment: can the Russian and Germans to speak openly with each other? Relations between East and West reached their lowest point since the cold war. Ministers at the meetings say polite words, and then with stone faces travel in different directions. On Tuesday, Angela Merkel will take to Sochi next attempt. What this background can do people is only the mayors of the two cities?
Florian Janik (Janik Florian) dedicated their weekend trip from Bavaria to Vladimir. The former princely residence is part of the so-called "Golden ring" of Russia and is a couple of hours drive from Moscow. The city is famous in particular for its Cathedral of the XII century and prison, built in the XVIII century. 37-year-old social Democrat Florian Janik for three years has held the post of mayor of Erlangen, a city in Franconia, which once ruled the Huguenots. Thus the young politician took over, in particular, responsibility for the sister-city relationship with Vladimir.
For more than 30 years between the cities serviced by exchanges between schools and sports clubs, choirs and clubs alcoholics anonymous. This partnership is so stable that in its framework one can even speak on political issues and do not be shy. To such conclusion came the mayor of Erlangen Vladimir Janik and his colleague, 58-year-old Olga Deeva, a member of the Pro-Kremlin party "United Russia".
In the beginning the partnership was made by the veterans
Now Deeva and Yannick sitting at one table, decorated with streamers, and discuss issues related to migration. At the beginning of a new discussion circle, they took the initiative to discuss a topic that is relevant for both Russian and German society. "The topic of Crimea is unlikely to have been able to talk so easily," says Yanik.
The debate, which was attended by about 30 people — researchers, staff of both municipalities, representatives of religious circles and trade unions lasted for almost two hours. The Germans talked about the fact that integration can be successful and benefit society and the state. Russians constantly referred to the dangers to which from the very beginning of the migration crisis in Europe is constantly saying on state television: rape, terrorism and unbearable burden for the social system.
Yanik has refrained from sharp statements. His colleagues told the Russian about his work: Commissioner for integration in the municipality of Erlangen, himself a native of Georgia, so it is with the host side of the shared Soviet past and speaks good Russian. But it was clear just how frustrating it was to hear the questions the Russians about how to deal with immigration how to make lazy foreigners to learn German and work.
Finally the floor was taken by Yanik. He stressed that refugees, in fact, are common migrants. According to him, companies like Siemens, universities or research Institute of the max Planck — all in the first place, interested in having them come to school or work "the best and the brightest minds" and feel they have to offer. "Migration helps us to move forward," — said the mayor.
At the same table with him sat the representative of the Russian popular Front, established to support Putin. This man asked the German participants in the debate, as evidenced by the fact that in Europe arrived by the millions of refugees and at the same time, NATO is expanding its infrastructure to the borders of Russia. It is not quite clear what connection he saw between these two topics. But, apparently, he saw a double threat to their country. "I would only be welcomed if Russia and Europe have once again demonstrated more of willingness to dialogue on the topic of security," said Yanik, showing himself a real diplomat.
It will be possible when the relationship will have a solid Foundation. When the words of courtesy and eulogies will be made redundant, because everything will be long familiar with each other. When people know that on some issues, their positions vary widely, but it is not an insurmountable problem. Because sooner or later the parties will be able to openly discuss truly urgent and specific questions. Sometimes a much more important topic can be, for example, the ability to transport used mud pump from Erlangen to Vladimir.
Yanik to do not have from the mayors expect that they will attract investors, build new roads or sit in on city holidays. However, in Erlangen, according to Janika, there are many people for whom the presence of representatives of many nationalities is of great importance. When Erlangen and Vladimir in 1983, became sister cities, no one knew that the Soviet Union would soon cease to exist.
Then the main force, speaking for the establishment of contacts between the cities were veterans of the war: the inhabitants of Erlangen, who was once a prisoner in Vladimir, and men from this town who fought against the Wehrmacht. After the war of extermination waged by the Germans, reconciliation seemed impossible. However, maybe this experience and gives confidence that even in difficult times, parties can engage in dialogue.
Anyone who wants to get an idea of how stable this partnership may pass from the centre of Vladimir, in the direction of Central station to a bright two-storey building with wooden window frames and balconies in the Russian style. When the city government in 1992, has provided this place for meetings with German partners, there was a "crooked" place of rotten wood with rusty pipes and krasivskaya bricks.
In subsequent years, volunteers from Erlangen and Vladimir spent a lot of time and effort to clear the building of debris, replace fixtures, heating, plumbing and electrics. Today the "House of Erlangen" moved to self-sufficiency, renting space and organizing German language courses. And when guests come from Germany, courtyard hosts a joint German-Russian holidays. The partnership has a real own home.
In total, Germany and Russia there are about one hundred pairs of sister cities, and when politicians and representatives of business circles talk about the need to seek opportunities for dialogue with Russia, in fact it is so long ago already under way outside of major summits. The inhabitants of Erlangen and Vladimir, despite EU sanctions, never would have thought to refuse contact with each other.
Although the Bavarian city have other sister cities, for example, English Stoke-on-Trent, Besiktas or Swedish Eskilstuna, "with Vladimir exchange is more extensive than with the other three cities combined," says Peter stöger (Peter Steger) since 1987 coordinator of contacts from Erlangen. "In relations with other cities sometimes there is some fatigue, but with Vladimir, they are still very intense. The city and civil society have expressed an interest in them. And money on maintaining partnerships was available at all times".
A young Russian woman wants to study abroad. And to fight for progress at home
Irina Schadow for this reason is now in Erlangen. Russian woman from Vladimir sitting at the long dining table in the living room of one of city apartments. Treats it should be enough for six residents of the apartment and staff. On the wall hangs a strict spending plan for the whole week, Breakfast, lunch and dinner; painted who what day cooks, cleans and goes shopping.
Live here and mentally unstable people who are prone to schizophrenia and depression. Irina Schadow helps them. For three months in a row 21-year-old student from Russia working for a charitable organization Kosbach help people with mental illness, providing them with housing and work. Schadow every day, helping them and learning.
Quiet and friendly to talk with mentally ill people — for social workers in Russia is the exception rather than the rule. In this country, are still reflected seven decades lived in the Soviet times, when it was not accepted to stand on ceremony with the people facing difficulties in life. "In principle, it happens: either the person gets in a psychiatric hospital or remain alone with their problems," says Schadow. "But in psychiatry work in the first place, doctors and nurses, not social workers. This simultaneous accommodation and treatment, while maintaining personal freedom, as here, we cannot. We have such people more afraid."
But such exchanges, and is intended to gain experience, to return home and implement there. Schadow wants to learn abroad, to come home and tell my friends about everything she saw here. While she has no desire to leave Russia forever. She wants to fight for progress and to communicate freely with people. In her opinion, it is not something taken for granted. Policy? Not a pleasant subject, even in the parental home, these conversations almost never happen.
After the event, at the table, behind which sat the mayor Yanik and his delegation, there was silence. Can we consider the experiment a success? "We have Russian practically nothing has been learned," said someone from the members of the delegation. But, anyway, the meeting was not only read those reports, and there was a real discussion — with questions and answers. People really want to get to know each other better and this may be a starting point. So already before. In 1983.
Comments
comments