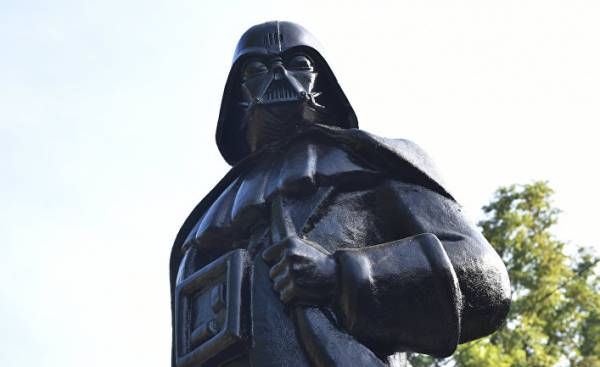 Odesa — Deputies of Odesa city Council voted to change the names of streets, renamed in may last year as part of decommunization. Draft decision on the meeting made "the voice". The renaming was supported by 41 deputies of the 61. In particular, the old names have left the streets of the 25th Chapayev division, Gaidar, Belinsky, Tereshkova, Marshal Zhukov Avenue (renamed Avenue of the Heavenly Hundred).
Odessa oblast Prosecutor's office already opened criminal proceedings in connection with this decision. It's seen signs of a criminal offense: manufacture, the spread of Communist and Nazi symbols and propaganda of the totalitarian regimes, reported in a press-Department service.
"Return of the old Communist names is illegal. What's more is the propaganda of the Communist totalitarian regime. If Trukhanov sign this decision, they should be prosecuted", — commented on the actions of the Odessa deputies in Facebook the head of the Ukrainian Institute of national memory Vladimir vyatrovich.
Recall that in may 2016 the Odessa regional state administration renamed 51 object names in Odessa. After that, the historical-toponymic Commission of Odessa city Council proposed a list of renaming, leaving out the old name. In December 2016 in Odessa held a public hearing on this matter. During the hearing there was a fight, and most of the participants supported the renaming from the Odessa regional state administration. However, city Council recognized the hearing did not take place due to collisions in the hall and procedural violations.
Anatoly Boyko, the Chairman of the Odessa regional organization of Committee of voters of Ukraine:
Is by far the Communist coven. Odessa Governor Maksym Stepanov said that it was a provocation, and I agree with him. It's a shame that for this decision voted and the Deputy from BPP Deputy head of fraction of Elena Fokina. I believe that BPP should publicly disclose its position on this issue.
In my opinion, this decision could take intentionally the day before 2 and may 9 to show that the city Council seems to consider the opinion of Odessa. Good that the regional Prosecutor's office opened a case for this reason. But regional Prosecutor repeatedly accused of being too close to the mayor. There is a risk that the case will be collapsed and closed, so it took control of the Prosecutor General's office or that the investigation was generally transferred to Kiev.
Comments
comments