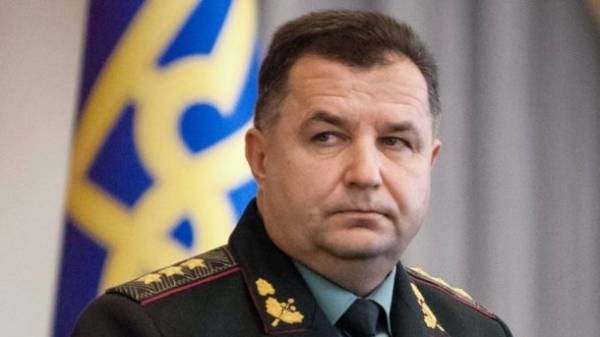 The Minister of defence of Ukraine Stepan Poltorak believes that judge military judges with special training. About this Poltorak said at a briefing, commenting on the verdict of Pavlogradskiy court of Dnepropetrovsk region the General-the major Victor Nazarov.
"Every person, regardless of whether civil or military, if he committed a crime must answer. But I really would like to decisions of the courts, not only in respect of General Nazarov, and to all, was perfectly weighted to take into account the facts and emotions were not in the foreground" – said Poltorak.
According to him, the defense Ministry reviewed the situation with the condemned Nazarov. "In a world of such cases, when not only condemn the General or the officer and the man behind the decision – is very small," – said Poltorak.
He also commented on Nazarov's decision to send a transport plane at Luhansk airport. "If such a decision had been taken, would have died, those who were at the airport. But the decision was made – and in trouble. I don't want to justify the high leaders, but time will put everything in its place", – said the Minister.
Also Poltorak added that, given the specificity of the Armed forces, judges have to look very carefully in such matters. "Judges, leading such things must have some training. Because the judge (in Pavlohrad – Ed.) it was very difficult to work because she had to understand departmental documents, orders issuing orders, making decisions. Therefore, there must be certain requirements for judges, a leading military Affairs," the Minister said.
As reported, on March 27, the court Pavlograd of Dnipropetrovsk region, was found guilty of major-General Nazarov in the crash of a military transport aircraft Il-76 in Lugansk and sentenced him to 7 years imprisonment.
The President of Ukraine Petro Poroshenko in connection with the verdict Nazarov said he intends to offer to renew the activities of the special military courts. "Over the past three years, we have fostered a new generation of enterprising, daring and sometimes desperate commanders who protect our Ukraine. To hobble their judgments would be foolish from the standpoint of ensuring the defense capability and security," the President said.
We will remind, on June 14, 2014 at night, when landing at the airport of Lugansk a shot from a Russian anti-aircraft missile system fighters shot down Il-76. On Board, in addition to nine crew members, was 40 soldiers. All died.
Comments
comments