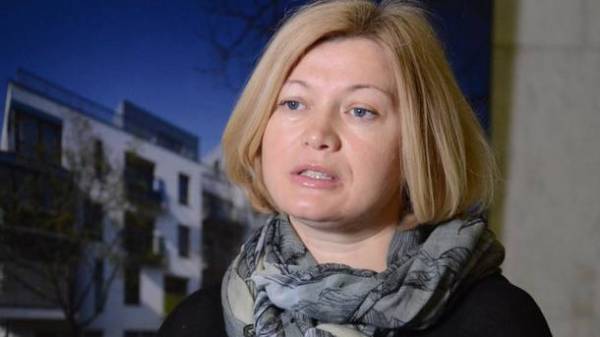 The Russian media could spread the news about the alleged death of Arthur Panov Ukrainian in Rostov prison to ensure that the trial was held "in silence." This opinion was expressed by first Deputy Chairman of the Verkhovna Rada Iryna Gerashchenko in Facebook.
"Today in the Russian media appeared vile, worthless fejkova the news that Arthur supposedly died in prison. Why nasty Russian propagandists do? It is possible to tickle the nerves of Ukrainian diplomats, the family of the unfortunate hostages, and possibly to ensure that prisoners are not brought to judgment, and "courts" that it took place in silence, without unnecessary witnesses, even without themselves innocent and unfairly accused, but only with the participation of Prosecutor and judge," she wrote.
Gerashchenko added that the "court" in the case of Panova will be the Ukrainian Consul, but it is important that there were definitely European diplomats.
"Therefore, I appeal to the European journalists accredited in the Russian Federation, diplomatic missions – all trial of Ukrainians should take place with increased attention of the European media and diplomatic corps. It's crazy that the world turns a blind eye to the captives of the Kremlin and pretends they don't exist, that seems to be all released" – added first Deputy Chairman of BP.
Earlier in the blog Russian the Internet-editions "Fontanka" has appeared a message about the alleged death on April 29, due to heart failure 19-year-old Ukrainian Arthur Panov, who is accused of preparing terrorist attack in Russia.
Today, however, the Ukrainian Consul in Rostov-on-don Vitaly Konarski in the comments of "Radio Liberty" reported that the citizen of Ukraine, Arthur gentry, who is in custody in the Russian city of Rostov-on-don, alive, and the information about his death is false.
The fact that the lords alive also confirmed the Ukrainian Parliament Commissioner for human rights Valeria Lutkovska.
Arthur gentry was detained in early December 2015 in the Rostov region after crossing the Ukrainian-Russian border on suspicion of preparing a terrorist attack in Russia. 14 February in the North Caucasus military district court in Rostov-on-don began the trial in his case. Along with Panov on the dock was Rostov student, who is charged with assisting in "criminal activities" by Ukrainian. Gentry does not admit his guilt.
Comments
comments